Promoting Diversity and Inclusion
We are taking active steps towards creating a diverse and inclusive workplace where people of all backgrounds can express their rights and values freely. Our Human Resources Headquarters has launched a new Diversity Promotion Department to accelerate previous initiatives for encouraging female involvement in the workforce. At the same time, the department is expanding efforts to include the LGBT community, seniors, and people with disabilities. Through these measures, we hope to provide a welcoming and supportive working environment to all our employees and will continue to reform our corporate systems and structures, while raising awareness through in-house training.
[LGBT-related Initiatives]
As part of our efforts to promote a more diverse environment, we have begun implementing initiatives centered on LGBT groups. We have set up a Diversity Promotion Department and an LGBT Consultation Desk within HR's Headquarters in working towards creating a more comfortable and supportive working environment for all. We are also holding regular study sessions to deepen company understanding around these issues and are reviewing our internal regulations and welfare program to make sure they comply with these new objectives.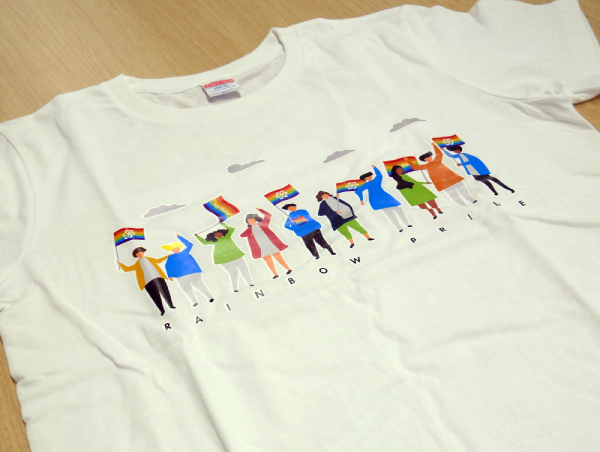 Participation in Tokyo's Rainbow Parade
Our LGBT Workshop was featured on NHK World JAPAN.
[Complying with the Act on Promotion of Women's Participation and Advancement in the Workplace]
We formulated the Second Phase of our Plan of Action (April 2018 to March 2021) based on the directives found in the Act on Promotion of Women's Participation and Advancement in the Workplace and submitted this to the Kyoto Labor Bureau. Our goal is to increase the number of women in leadership and management positions by at least 15 and 2, respectively, as of fiscal year 2020. While continuing to implement these current initiatives, we will also hold company training sessions for female employees and provide additional support for career development to staff out on childcare leave.
[Various Measures for Promoting Female Advancement in the Workplace]
| | |
| --- | --- |
| Support seminar for returning to work after childcare leave | While these seminars had only been offered in Kyoto up until now, due to an increase in applicable candidates and a desire to reduce the burden of those just returning to work from childcare leave, we are now holding these seminars in the Kanto and Nagoya areas as well. |
| Subsidy systems for babysitter fees/caring for sick children | To support staff looking to return to work early from their childcare leave or transitioning to full-time work from a shortened working schedule, we have established subsidy systems to help cover both babysitting costs and caring for sick children. |
| Consultations before and after childbirth and before taking leave/Consultations after childcare leave | In addition to explaining the various procedures for maternity leave and childcare leave, after returning to the work force hearings will be held to further understand the workers point of view and workstyle. |
| Support handbook for balancing work and childcare | We create and distribute handbooks summarizing various systems concerning work-related support during and post pregnancy as well as after returning to the job. The content focuses on our company's internal systems. |
| Special sessions with outside directors | We offer special sessions for female employees and managers to network and exchange ideas with our company's first female outside director, Ms. Fumi Shirai. |
| Diversity surveys (promoting female advancement in the workplace) | We asked our employees to take part in a survey. We included some of the same questions as a previous survey (2014) and checked for changes in respondents' mindsets as well as verified the effectiveness of measures taken up until now. |
| Reviewing the HR performance evaluation system | To ensure fair and equitable evaluations, we have removed factors such as leave for childcare or for nursing ill or aging family members, etc. from criteria considered when determining salary increases, promotions, and bonuses. |
| Promoting acquisition of paternity leave for men | We promote the adoption of paternity leave among male employees in order to foster a better working environment for women by encouraging greater male involvement in childcare and housework. The first five days of childcare leave for men and women are treated as paid holidays. |
[Promoting Acquisition of Childcare Leave for Men]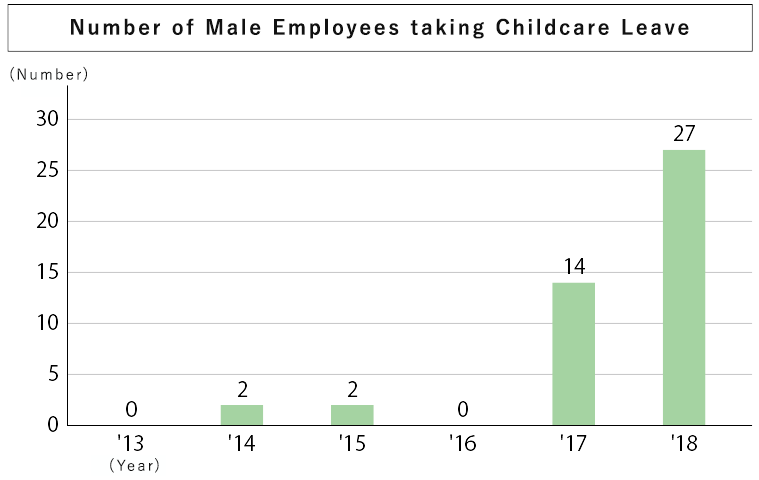 To promote female involvement in the workforce and offer support to men looking to play a more active role in child-raising, our corporate group encourages male employees to take childcare leave; thereby, allowing for more equal distribution of household responsibilities. Since implementing various measures such as email notifications promoting childcare leave to applicable candidates, we have achieved an acquisition rate of 48% with 27 men taking childcare leave in fiscal year 2018 alone.
[Platinum Kurumin Certification]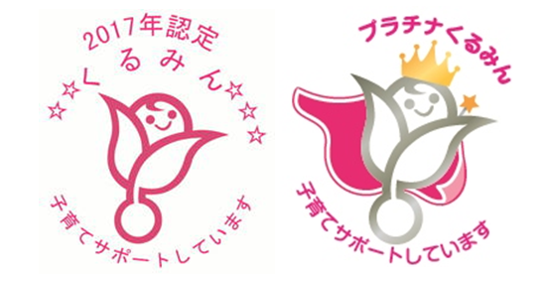 In August 2017, we obtained Platinum Kurumin Certification from the Kyoto Labor Bureau. The Platinum Kurumin designation is awarded to companies who, in addition to being recognized by the Ministry of Health, Labor and Welfare for their efforts in supporting employees with children, have gone on to pursue even higher standards in creating a supportive workplace. In 2007, we were the first company in Kyoto to be awarded this prestigious designation, and have since continuously engaged in efforts to support women in building and continuing their careers after childbirth, while making workplace reforms to working hours, supporting improved work-life balance, and promoting male acquisition of childcare leave.
Going forward, we promise to continue creating a work environment that provides both meaning and a diverse array of working styles, so that all employees can live rich and fulfilling lives, while balancing both work and family.