Invested in a Start-up (APB) Creating the Next Generation of Lithium Ion Battery Technologies
Accelerating the Development of Lithium Ion Batteries together with Professor Horie of Keio University
– Transforming the Battery Industry with All Polymer Batteries –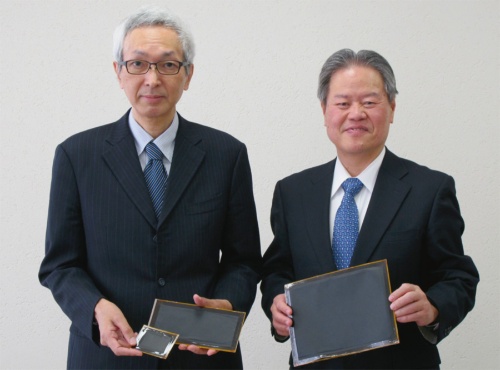 Sanyo Chemical Industry has joined with Keio University's specially-appointed professor, Hideaki Horie, and partner companies to develop an all new type of lithium ion battery (hereinafter, referred to as Next Generation LiB).
On this occasion, we have provided a capital investment to Professor Hideaki Horie's newly-established company, APB Co., Ltd. (head office: Minato-ku, Tokyo; President: Hideaki Horie).
APB Co., Ltd. was established by Specially-appointed Professor Hideaki Horie — a leading authority on bipolar lithium ion batteries — and the Keio Innovation Initiative (KII)* in October 2018 to pursue the practical application of Next Generation LiB. Since 2012, we have been working directly with Professor Horie to develop a new generation of lithium ion batteries. On February 28, 2019, we formed a capital-based business partnership with APB by agreeing to invest in the company. Through these investment and partnership initiatives, we are working to accelerate the practical application of Next Generation LiB technology while developing this project into a new venture for the Sanyo Group.
*KII is a venture capital established in 2015 by Keio University and Nomura Holdings.
Profile of APB Co., Ltd.
APB is a joint venture started by Keio University's Specially-appointed Professor Hideake Horie and the Keio Innovation Initiative (KII) to develop the next generation of lithium ion battery technologies.
Representative Director and President: Hideaki Horie
Head Office: 1-4-28, Mita, Minato-ku, Tokyo
Established: January 29, 2018
Capital: Not Disclosed
Company Purpose: Manufacturing, sale, and R&D of LiB, consulting operations, etc.
About Next Generation LiB
Traditionally, current collecting foils were made from metal. Our next generation lithium-ion battery, however, employs resin on the electrodes to create a battery that is the first of its kind. By converting the electrodes to a resin construction, we were able to create a thick film over the electrodes, while enlarging the cell's size; thereby, achieving a capacitance more than twice that of conventional batteries. In addition, as our Next Generation LiB features a bipolar configuration, it can be connected in a series through stacking. By reducing the number of connected parts, you are able to minimize the size of the system as a whole. Offering a high degree of freedom in terms of shape, it is expected to meet a new and emerging demand not met by conventional products. To start, we are promoting its practical application in locations with large stationary power sources such as buildings, offices and power plants where demand is high for increasing battery capacity.
A Bipolar Configuration Unlike Conventional Battery Structures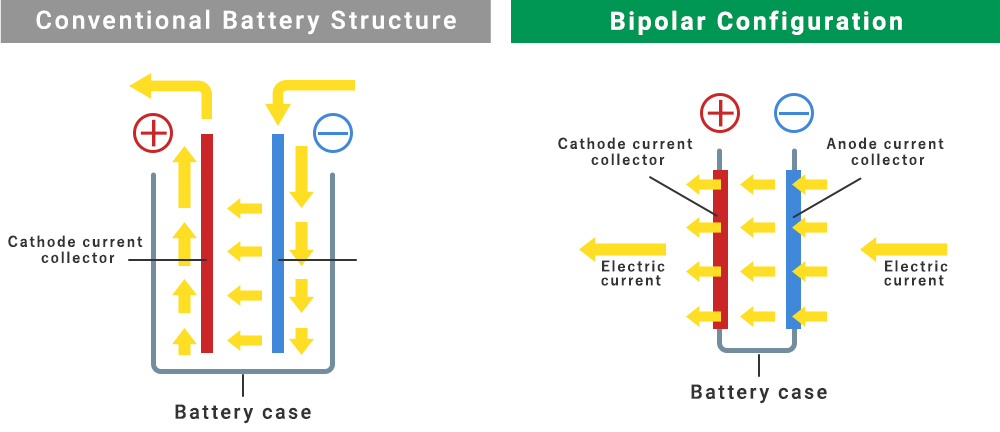 Features of Our LiB
By increasing the electrodes' thickness multiple times

, a higher capacitance is achieved.
Parts taking up significant space, such as connection circuits,

are greatly reduced allowing for

:
⇒ a compact lithium-ion battery system
⇒ reduced risk of troubles originating from excess parts