We have grown to be a unique, global, and highly profitable company,
where all our employees proud themselves, find meaning in their work,
and contribute to society!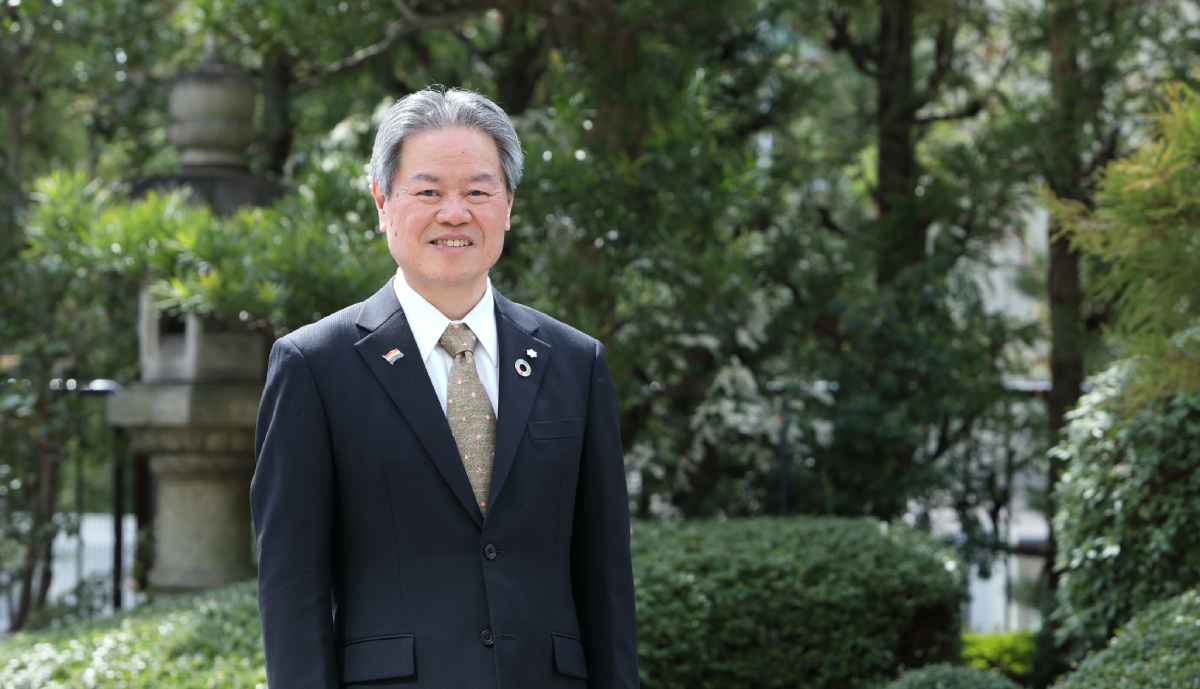 Q Please tell us about the business environment and the status of the Sanyo Chemical Group.
The Japanese economy in the current fiscal term remains at a standstill where exports are failing to grow, although capital investment is gradually increasing and personal consumption continues to recover. In addition, there is increasing uncertainty about the outlook with apprehension that the slowdown in the economies of developing countries, including China, may spread to the world economy, although the US economy remains firm.
In the chemical industry, exchange rates remained stable but the business environment remains unpredictable in which raw material prices are on an upward trend after having declined in the third quarter and rebounding in the fourth quarter.
Sales for the current fiscal term in such an environment were 161,599 million yen (a 0.1% decrease over the previous term) in spite of sales price revisions because of increased raw material prices and primarily due to the decrease in sales. In terms of profits, operating profit increased to 12,919 million yen (a 7.7% increase over the previous term) and current profit increased to 15,205 million yen (a 9.7% increase over the previous term) thanks to the improvement in trading spreads, an increase in sales volume of profitable products, and as a result of recording impairment losses from SDP Global (Malaysia) SDN. BHD. which is a consolidated subsidiary of the Company, current-term net income declined to 5,345 million yen (a 42.3% decrease over the previous term).
In light of the sudden change in the market environment and other factors, Sanyo Chemical and Nippon Shokubai concluded a memorandum of understanding on the consideration of management integration to maximize the synergy through the expansion of existing business and new fields by merging mutual management resources.
As for concrete policies and although we will consult with Nippon Shokubai from now on, our basic principle is that this agreement will take effect in October 2020, that the two companies will jointly effect a share transfer to establish an integrated holding company, and that around two years after the management integration takes effect, we will execute the merger of the two companies after concluding the final agreement in December 2019 and after obtaining the approval at the regular general meeting of shareholders of the fiscal year ended March 2020.
Nippon Shokubai has its strength in having a value chain of in-house-manufacturing process of basic chemicals and functional chemicals, but on the other hand, is facing a challenge to create new businesses that meets users' needs.
Sanyo Chemical, on the other hand, has its strength in manufacturing and marketing performance chemicals, whose scope of variation extends to approximately 3,000 types, as part of its solution business that addresses customers' challenges. At the same time, Sanyo Chemical has been facing the issue of its dependence on procurement of raw materials from external suppliers, including Nippon Shokubai. By merging the technologies of the two companies, rearranging product groups, and establishing the best business system, we believe that we can expect further growth and, thereby, enhance corporate value.
Q Please tell us about the way you deal with SDGs.
In the Sustainable Development Goals (SDGs) adopted by the United Nations in September 2015, 17 goals, such as poverty eradication, environmental preservation, and solutions to inequality, are presented, and we believe there are many issues to which Sanyo Chemical Group distributing SDGs badges to officers and holding seminars. In addition, we plan to make an SDGs declaration in terms of the representation of our agreement to SDGs and the implementation of our activities.
Q Please tell us about your CSR activities for FY2018.
Sanyo Chemical group established 11 of the CSR guidelines. We promote CSR activities by appointing a leader for the promotion of each of the guidelines and by announcing within our gourp the details of specific efforts and schedules together with a commitment from each leader. We report the status of progress within the CSR Committee to be held twice a year while implementing the PDCA cycle.
We are actively providing support for workstyle reforms, diversity, and the promotion of health from the viewpoint of healthy management in order that employees can fulfill their potential.
As for environmental activities, from FY 2018, we started Global S-TEC Level 2. We are working to reduce global warming gas emissions as an important item to address.
With regard to CSR procuration for the promotion of CSR activities across the entire supply chain, we are distributing questionnaires for suppliers and cooperating with the affiliated companies inside and outside Japan.
Q Please tell us about workstyle reforms.
We positions workstyle reforms as a priority management issue and is promoting substantial reforms in attitudes and work restructuring for improved work efficiency.
With the goal of promoting reforms and becoming a corporation in which all our employees proud themselves, find meaning in their work, we started the Workstyle Reforms Project. This project members ware publicly recruited or recommended from employees, in addition to basic members.  By having employees actively involved, we are accelerating workstyle reforms and work transformation more than ever.
As examples of efforts to address, we are implementing efficient workstyles, such as the introduction of a system that allows mobile terminals to access the internal intranet.
As for systems, we are promoting real work-life balance through the introduction of a flextime system, annual paid leave by the hour that allows employees to take paid leave by the hour, and a work-at-home system.
Q Please tell us about the promotion of diversity.
We respects human rights and accepts diverse values by promoting efforts to achieve a workplace environment that allows diverse human resources to be energetically involved in their work.
By establishing the Diversity Promotion Department in January 2019, we promote our efforts for diversity. We not only set up a consultation counter for LGBT issues but also revised the personnel system so that same-sex partners may be included in the benefit and welfare system equal to the spouse. In addition, Sanyo Chemical acquired platinum Kurumin certification in 2017 and received a high evaluation as a corporation supporting child raising by promoting efforts to encourage the success of women in the workplace.
From now on, we intend to create a work environment that accommodates diverse human resources, including employees who are elderly and physically handicapped, and we contribute to realize a better society by having all employees actively perform their duties to produce high added value.
Q Lastly, please share your message with stakeholders.
To be a unique global company group and achieve a sustainable society, we will enhance our corporate value by promoting CSR management.
We will also promote globalization in terms of our efforts for corporate governance and to address environmental problems and education and various systems to be provided for employees in order to enhance sales channels, production bases, and the globalization of suppliers.
From now on, we will strive to achieve our company motto—Let us conrtibute to building a better society through our corporate activities!—by receiving the understanding and cooperation of stakeholders in terms of our various CSR activities. We would be most grateful if you could give us your comments and advice.
July 2019
President & CEO