By developing into a unique, global, and highly profitable company group in which all employees take pride and have challenging jobs, we will contribute to a better society!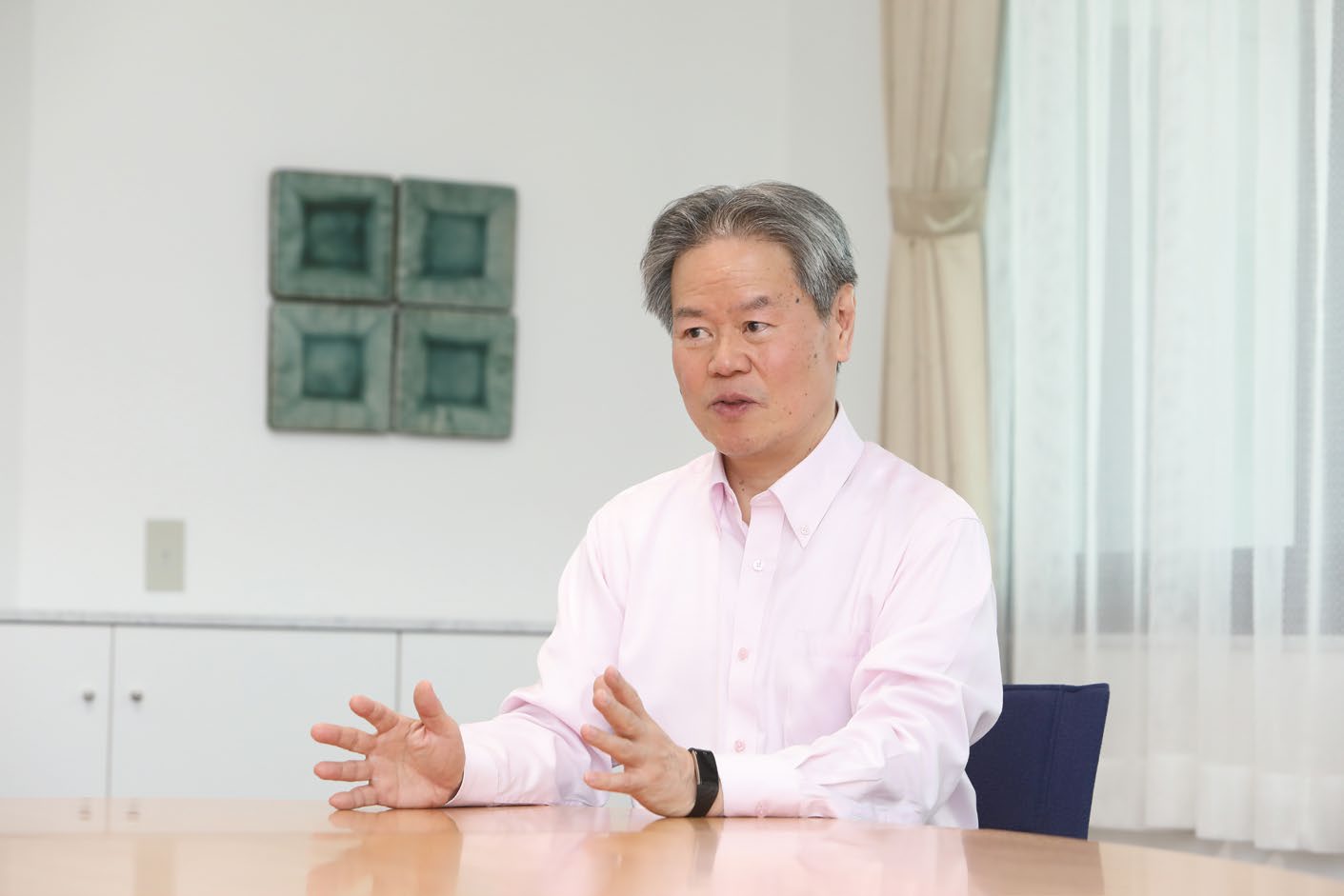 Q Please tell us about the business environment and the status of the Sanyo Chemical Group.
During the fiscal year ended March 31, 2020, the Japanese economy remained at a standstill with exports failing to grow because of the slowdown in the Chinese economy, although personal consumption gradually recovered. During and after the fourth quarter, we experienced a period of uncertainty about the future in which economic activities might substantially contract against the backdrop of the global spread of COVID-19. On the other hand, while the real economy has been affected by China-US trade conflicts, during and after the fourth quarter, the state of the world economy has been critical because of supply chain disruptions from the global coronavirus pandemic and the evaporation of demand from restrictions on outings.
In the chemical industry during and after the fourth quarter, we experienced an unpredictable situation where the business environment has been severely affected by violent fluctuations in exchange rates, while raw material prices were unstable because of the strained situation in the Middle East, and exchange rates moved towards appreciation of the yen primarily because of the change in the US financial policies of the easing of monetary restraints.
Sales for the current fiscal term were 155,503 million yen (a 3.8% decrease over the previous term). In terms of profit, operating profit was 12,439 million yen (a 3.7% decrease over the previous term) due to decreased sales, and ordinary profit declined to 12,704 million yen (a 16.4% decrease over the previous term) as a result of foreign exchange losses, decreased equity method investment gains, and other factors, and profit attributable to owners of parent increased to 7,668 million yen (a 43.4% increase over the previous term).
Q Please tell us about your CSR activities for FY 2019.
Sanyo Chemical group established 11 guidelines of the CSR activities. We promote CSR activities by appointing a leader for the promotion of each of the guidelines and by announcing within our group the details of specific efforts and schedules together with a commitment from each leader. We report the status of progress within the CSR Committee to be held twice a year while implementing the PDCA cycle.
The philosophy and course of action of the Sustainable Development Goals (SDGs) and the CSR activities of the Company share the same basis. The Company accelerated the penetration of SDGs primarily by linking the CSR activities to the SDGs, distributing SDGs badges, and providing in-house training seminars.
For FY 2019, we linked our research themes to the SDGs and promoted theme-generating development activities by asking whether there were any items to which our research division could contribute. We also promoted work related to the SDGs and social contribution activities in which our employees can take pride.
In April 2020, we set up the Sustainability Promotion Committee to respond to the different challenges related to sustainability, including the SDGs, and to tackle management promotion issues. As for environmental activities, we have been promoting Global S-TEC Level 2 from 2018 to 2020. We are working on the activities such as global warming gas emissions as important issues.
Q Please tell us about your management policy on diversity.
Sanyo Chemical, through its flexible workstyle systems, such as no dress code and enhancement of the super-flextime system with no core time, intends to recognize diversity for not only female employees but also elderly, non-Japanese, and/or handicapped employees. Diversity is not a matter of the working population alone, but in today's society of extreme changes, we believe that companies will not continue to grow without diversity. With regard to the current spread of COVID-19, we have applied the introduced flexible workstyle system to continue business operations.
As an evaluation from outside in terms of Sanyo Chemical's approach to the problems of diversity, we were honored to receive the Gold Award of the Pride Index (index evaluating efforts to deal with LGBTQ-related problems) from the voluntary organization, work with Pride, and the platinum Kurumin certification as a corporation supporting child raising from the Ministry of Health, Labour and Welfare.
We are promoting efforts to create a more open atmosphere within the company, and we feel that our efforts are already having an effect. From now on, we will continue to work for Kaeru (committed to change), which is the slogan of the Tenth Medium-Term Management Plan.
Q Please tell us about your healthy management.
The priority management issue for Sanyo Chemical is to achieve a workplace environment where all employees feel that their work is challenging with satisfaction. Consequently, We are making systemic reforms in attitudes, workstyle, and diversity and inclusion.
Among other changes, we are focusing on health management so that employees can fulfill their potential. We actively support the health of employees. For example, in order to strengthen the follow-up system for those given a specific observation or diagnosis in a medical checkup and to introduce a flextime system for use in the event of a disease or for medical treatment, we offer support for employee to balance work and medical care in a more diversified and flexible manner. We believe that because our above-listed activities received a high evaluation, Sanyo Chemical has been recognized for the second consecutive year as one of the outstanding enterprises engaging in efforts to advance health and productivity management jointly selected by the Ministry of Economy, Trade and Industry (METI) and the Nippon Kenko Kaigi (Organization to encourage to overcome health-related challenges).
Q Last, please share your message with stakeholders.
We will enhance our corporate value by promoting CSR management in order to become a unique global corpoeate group and achieve a sustainable society. We will also promote globalization through our efforts for corporate governance, and we will address environmental problems by providing education and other systems to employees in order to enhance sales channels, production bases, and the globalization of suppliers. From now on, we will strive to achieve our company motto—Let us contribute to building a better society through our corporate activities—by receiving the understanding and cooperation of stakeholders for our various CSR activities. We would be most grateful if you could give us your honest opinions and guidance.
July 2020
President & CEO