Creating a Waku Waku company* to contribute to the realization of a sustainable society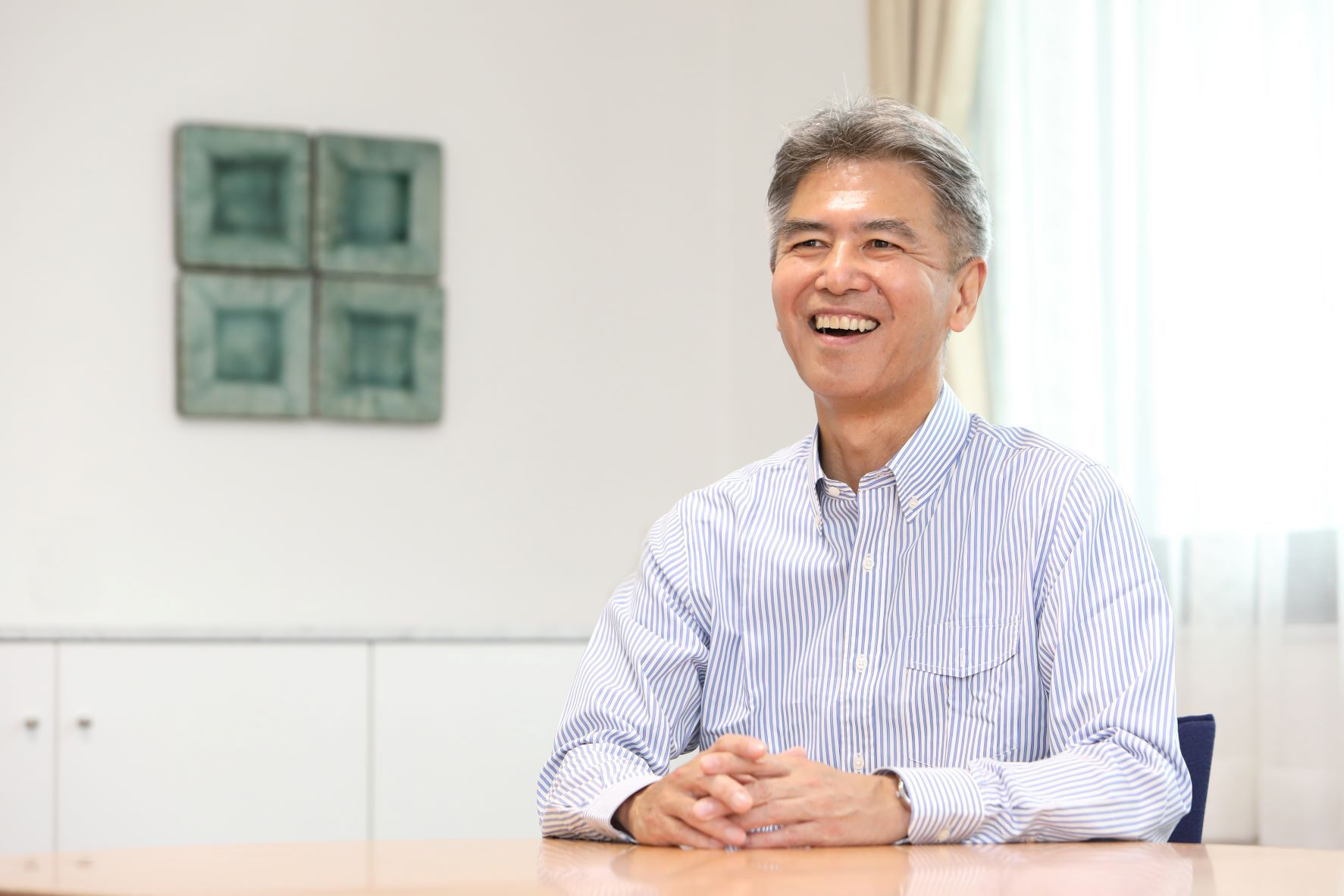 We have been promoting the creation of a work environment where diverse values are respected and each employee feels pride and satisfaction in their work while staying true to themselves. In addition to these efforts, I am committed, as a new president, to building a Waku Waku  company* forstakeholders by creating a stage on which employees can achieve their best performance as main actors of the company and helping each of them be motivated to constantly take on new challenges and produce unprecedented added value to grow.
Approach to Sustainable Corporate Management
Under the Company Motto "Let us contribute to building a better society through our corporate activities," we established the Sustainable  Management Committee, as an organization directly reporting to the Board of Directors, on April 1, 2021, in order to increase both economic and social value and further strengthen the corporate management for sustainable growth. In addition, in order for the entire Group to further promote sustainability, we participated in the UN Global Compact (UNGC), a global initiative for realizing sustainable growth.
We will continue to accelerate the transformation of the company which we have been tackling and promote sustainable corporate management from a long-term point of view in order to contribute to the realization of a sustainable society through our business activities based on the Company Motto.
CSR Activities and SDGs in Fiscal 2020
To promote CSR activities, we have established guidelines consisting of 11 items. A promotion manager has been appointed for each of these items, and specific activities and schedules, together with the commitment of each manager, are announced internally within the company. The progress is reported and discussed at the biannual CSR Committee meetings, and then a PDCA cycle is repeated. The CSR Committee was renamed the CSR Promotion  Management Committee in fiscal 2021, and its positioning was also changed to an advisory body to the management meeting. We will make CSR activities more effective by adding persons responsible for the implementation and promotion of concrete measures in the discussion and encouraging them to propose improvement plans from the standpoint closer to the front line.
The Company's CSR activities are consistent with the philosophy and direction of Sustainable Development Goals (SDGs). In fiscal 2020, we made continued efforts to achieve deeper understanding and penetration of SDGs by linking CSR activities in business with SDGs and providing SDGs seminars and other internal educational opportunities. We will steadily continue awareness-raising activities that help employees understand the link between SDGs and the work they engage in and work with pride.
In terms of environmental activities, we promoted the Global S-TEC Level 2 initiative for the period from 2018 to 2020 but failed to achieve the targets for some of the key items, unfortunately. We are committed to making up for the failure in the next initiative S-TEC21-24. From 2021 and onward, we will promote these activities through establishing the Energy Saving Promotion Department , which will be responsible for the measures against global warming and drawing up concrete plans to reduce CO2 emissions with a goal of achieving carbon neutrality in 2050.
Diversity, Inclusion and Health and Productivity Management
We have been putting priority in corporate management on the creation of a work environment where diverse values are respected and each employee feels pride and satisfaction in their work while staying true to themselves. As a new initiative for the promotion of female participation and career advancement in the workplace, we participated in the Osaka University-style Industry-University Joint Educational Project 2020, a collaborative project by Osaka University and seven private companies, for the purpose of improving the skills and career advancement of female employees and employees on childcare leave. We welcomed YouTuber Kazue-chan, who is conducting awareness-raising activities regarding LGBTQ, as a member of the Company and are assisting employees to have interactions at each branch. The Company is also facilitating employees to understand LGBTQ by improving systems and facilities, including installation of gender-neutral toilets. Thankfully, our diverse activities were appreciated, and we were granted the Platinum Kurumin certification by the Ministry of Health, Labour and Welfare in 2017 and received for the second consecutive year the highest Gold rating in the PRIDE Index, a set of indices set for the evaluation of each company's LGBTQ-related efforts by a voluntary association named "work with Pride."
For health and productivity management, we have promoted a healthy lifestyle and endeavored to raise awareness through a wide variety of approaches that include seminars on quitting smoking and having healthy sleep. As a result, the Company was recognized as one of the White 500 enterprises under the Certified Health & Productivity Management Outstanding Organizations Recognition Program jointly held by the Ministry of Economy, Trade and Industry and Nippon Kenko Kaigi (Japan Health Council) in 2019 and 2021. As we had introduced a telework system at an early stage, we have been able to combine work-from-home and flextime systems in a flexible manner to carry out our day-to-day work even under the COVID-19 state of emergency. We will continue to promote the creation of a pleasant work environment and system for each individual employee.
For Sustainable Growth
The Company restructured its organization as of April 1, 2021, in order to accelerate the speed of decision-making in business, shift to higher value-added products, and implement business activities from the customers' point of view. Now, each business division has its own sales and research organizations. Seven business divisions, three existing and four newly added, are placed directly under the president. By speeding up the decision-making process through integrated operation of sales and research, we endeavor to sophisticate the value provided for customers, including improvement of product performance and provision of products and services that can solve social issues, and to improve the profitability of each business.
All employees will participate in constructive discussions and spend the entire current fiscal year to formulate the 11th Medium-term Management Plan starting from fiscal 2022. In order to further enhance corporate value, we will create an exciting company where all employees in all divisions will be motivated and feel job satisfaction.
We are committed to making the Company Motto "Let us contribute to building a better society through our corporate activities" a reality, while obtaining understanding and cooperation from stakeholders, to become a unique, global and highly profitable company.
*"Waku Waku" is a Japanese word that means positive, bright, up-lifting feeling inspired by inner motivations and/or own wills.
July 2021
Akinori Higuchi
Representative Director, President and CEO