Disclosure Policy
https://www.sanyo-chemical.co.jp/ir_info/policy
[Basic Policies (Standards for Disclosure)]
We disclose all company-related information in accordance with established corporate law, the Financial Instruments and Exchange Act and related legislation, and the regulations for timely disclosure set forth by the Tokyo Stock Exchange (hereinafter referred to as "Regulations for Timely Disclosure").
For information not covered under the Regulations for Timely Disclosure, we make sure to provide full disclosure in a fair, impartial, and timely manner regardless of the nature of the content so our investors and shareholders can get a clear and accurate picture of the state of the company. In addition, we also actively promote the disclosure of company information through regular publications and by holding briefings on our financial results.
[Methods of Disclosure]
We disclose information designated as important by the Regulations for Timely Disclosure (settled matters, current matters, details of financial accounts, etc.) according to these same regulations and use the TDnet (Timely Disclosure Network) system provided by the Tokyo Stock Exchange to do so. Following disclosure on TDnet, we publish this information on our website as well as make it publicly available to newspapers and other media services. For information not covered under the Regulations for Timely Disclosure, we make sure to publish official releases on our company website to ensure this information reaches our investors and shareholders in a timely and fair manner.
[Quiet Period]
To prevent against the leaking of financial information and ensure impartiality, we maintain a quiet period starting from the day after the closing of accounts until the announcement of financial results for each quarter. Please be aware that during this period, we abstain from making any comments or answering any questions related to our financial accounts. However, in the event that an updated earnings forecast bears a considerable difference to a previously published one — as stipulated in the Regulations for Timely Disclosure — a disclosure will be made according to the above methods to rectify the earnings forecast, even during quiet periods.
[Future Prospects]
We may disclose other information on prospective earnings in addition to the statement of expected profits submitted to the Tokyo Stock Exchange. This consists of information on forecasts and planning drawn up under a set of fixed conditions and does not cover historical facts. Please be aware that actual results may vary dramatically from those outlined in company forecasts.
For information not covered under the Regulations for Timely Disclosure, we make sure to pay the utmost attention to the accuracy and nature of the information published but can neither ensure nor bear responsibility for the accuracy of said information.
[Due Diligence]
We do our best to ensure that the company and all other members of our corporate group are aware of and understand this policy. Representatives from our IR Department will handle all inquiries and questions received from investors and shareholders.
Shareholders General Meeting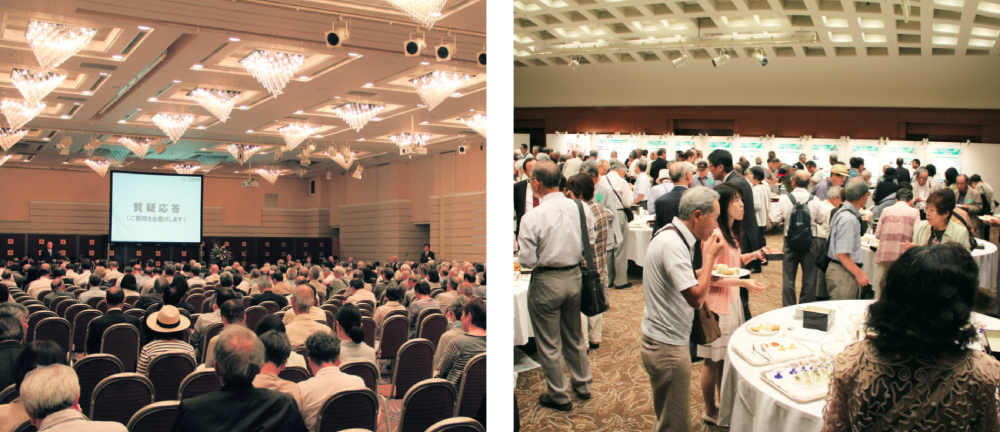 The Shareholders General Meeting offers the opportunity for shareholders to meet and discuss directly with company management. To ensure as many shareholders as possible are able to take part, we plan our Shareholders General Meeting so as to avoid potential scheduling conflicts with those held at other companies.
Ministry of the Environment Environmental Reporting Platform Development Pilot Project
The Environmental Reporting Platform Development Pilot Project aims to establish a society in which companies engaged in environmental activities receive appropriate recognition and funding from investors, etc. It was set up by the Ministry of the Environment in order to foster a dialogue between companies and investors and encourage ESG-related reporting centering on the environment.
Since first joining in 2013, we have been engaged in discussions on ESG with investors and continued to disclose environmental information related to our operations.
Disclosure of IR Information
We provide financial briefings and issue releases on our website for a wide range of company-related information to ensure our investors, both at home and abroad, stay informed.
Status of Briefings (FY 2017)
| | Times held | Number of attendees |
| --- | --- | --- |
| Announcement of financial results (press release) | 2 | 22 |
| Briefing of financial results (for institutional investors) | 2 | 90 |
| Briefing of financial results for private investors | 2 | 152 |
Glossary
ESG
Environmental, Social, and Governance (ESG) refers to the three central factors in measuring a company's ability to achieve sustainable growth. While in the short term ESG may not lead to increased profitability, companies who have placed importance on each of these factors are expected to show sustainable, long-term growth and maturity over time and have been attracting attention from stock markets in recent years as a stable, low-risk investment option.