In line with the CSR guidelines established by our company in 2009, we have committed to tackling the challenges facing biodiversity. In that same year, we joined the Japan Business Federation's Biological Diversity Declaration Promotion Partners and kick-started the Sanyo Chemical Woodland Project.
In 2013, we formulated a biodiversity action policy to lay out a more concrete course of action as we moved forward. In addition to considering effects on biodiversity in our R&D, procurement, and production operations, we have worked to enhance understanding and awareness of biodiversity conservation among our employees and have cooperated with local communities in biodiversity-related activities.
Action Policy Concerning Biodiversity:
To contribute to the preservation of biodiversity through the development, supply and popularization of eco-friendly products.
To source raw materials and office supplies with the aim of preserving biodiversity.
To cut greenhouse gas emissions, encourage the appropriate use of water, and properly dispose of chemical and waste substances from our offices, laboratories and factories in order to reduce their negative impact on biodiversity.
To enhance understanding and awareness of biodiversity among all our employees.
To cooperate with local communities in biodiversity-related activities.
Steps Towards Our Action Policy
Product Development
We contribute to the protection and conservation of biodiversity through the development and provision of chemical products that serve to reduce environmental burdens and control pollution. We also comply with the Cartagena Protocol on Biosafety when conducting protein synthesis using genetically modified organisms.
Raw Material Procurement: RSPO-related Activities
Due to the extensive use of palm oil as a raw material for our products, we joined the RSPO in 2013.
This International Palm Oil Certification System was introduced to promote and maintain environmental sustainability. In 2017, we began using certified sources of palm oil in our production operations.
Impact on biodiversity through the life cycle of a product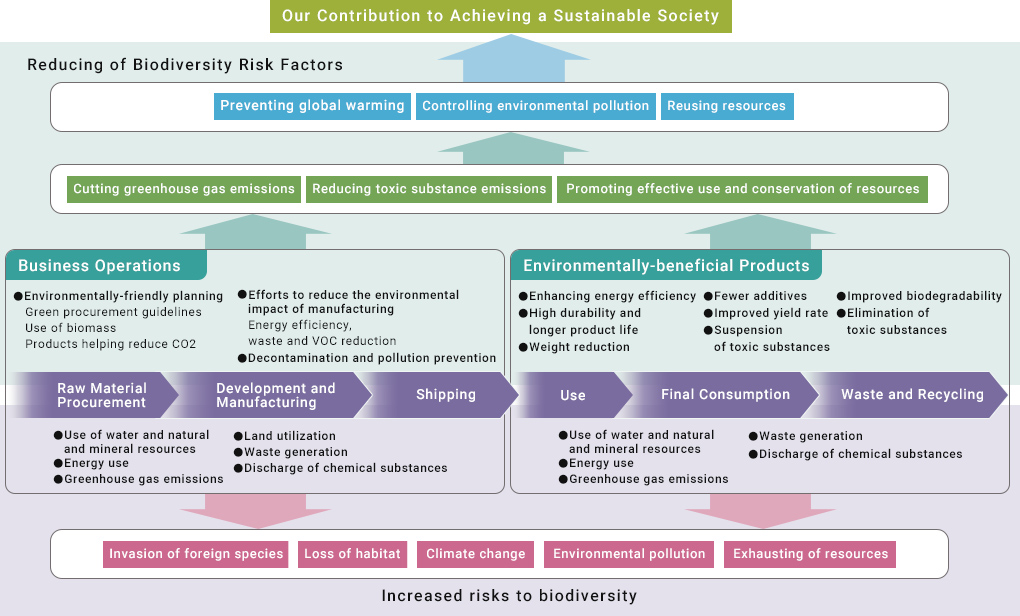 Glossary
Biodiversity
Variety and variability of plant and animal life co-existing and interacting in a particular habitat.
The human factor is critical in the destruction of ecosystems and the endangerment of species.
There are three levels to the Convention of Biological Diversity for tackling the challenges facing biodiversity worldwide: Ecosystem Diversity, Species Diversity and Genetic Diversity.
RSPO (Roundtable on Sustainable Palm Oil)
Palm oil is extracted from the pulp of African oil palm and is the most widely produced vegetable oil in the world.
The African oil palm can be cultivated in regions near the equator commonly found in South East Asia, Africa, and Central and Latin America.
In countries like Malaysia and Indonesia, where large-scale African oil palm plantations have been developed, serious problems, such as environmental damage from the deforestation of tropical forests and human rights violations resulting from rough working conditions on plantations, are threatening the sustainability of ecosystems and communities.
In 2004, the WWF joined with other organizations to establish the RSPO NPO. The main activities of this organization have centered around promoting the transition to use of certified palm oils, with a broader goal of making the palm oil production industry sustainable with a reduced environmental impact.