Safety/accident prevention management
The Environmental and Safety Administration Department of the Responsible Care Division is managing safety/accident prevention activities, including the handling of worker injuries/equipment accidents and countermeasures against them, 5S activities, equipment inspections, compliance with laws and regulations, and training. The department drafts and promotes specific environmental and safety/accident prevention measures of our group, and conducts patrols of offices and follow-up of promotion progress.


Occupational safety and health activity
Status of labor accidents
To achieve zero labor accidents, we are making activities under the main themes of the improvement of workers' hazard prediction capability, creation of a workplace culture in which workers warn each other, thorough implementation of recurrence prevention measures, and achievement of safer working environments. In fiscal year 2020, there were two occupational accidents of our employees without lost time, and five occupational accidents of dispatched employees/employees of affiliates with lost time and four without lost time. Concerning accidents that have occurred, we have investigated the true causes by using the five whys method, implemented recurrence prevention measures, and horizontally developed important countermeasures to all group factories at home and abroad.
Safety and Technology Education Center
In 2012, we established the Safety and Technology Education Center aimed at improving the safety education and production technology at the Nagoya factory. The center is equipped with devices for experiencing the danger of occupational accidents and pilot simulation equipment that reproduces the production device, allowing the study of principles and theories. Up to now, education has been provided to a total of approximately 2,900 employees of our company and affiliates. In the center, by making videos of accidents that have occurred in our company, safety education is provided to young workers.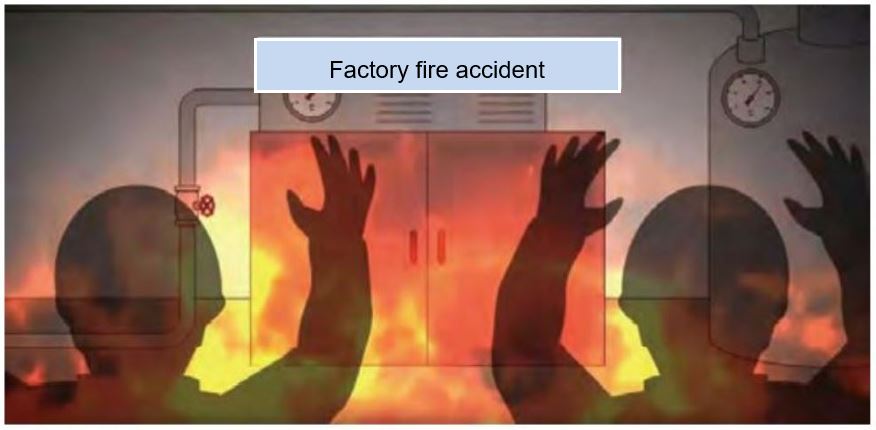 Video of accident case example
Manufacturing innovation/promotion project
Under the slogan of the Production Division "Change to be safer, more comfortable, and stronger!", in April 2021, we launched a project consisting of two teams of automatization/mechanization (manufacturing innovation) and digitalization/work efficiency improvement (work style refoam practices) in order to drastically change the field of manufacturing.

Envisioning what workers and the working environment are supposed to be in five years, the system in which the person in charge of production serving as the leader, the Production Division General Manager and the Deputy General Manager serving as the persons responsible for implementation, and the Product Planning Senior Manager serving as the secretariat will promote the initiative in order to realize the vision. Each team, led by the Factory Manager and consisting of young workers, including workers from domestic affiliates, will address the innovation.
Safety/accident prevention activity
In order to ensure safe business operation and continue our business, we implement countermeasures for both hardware and software and, after having set the response/action plan in case of an emergency, conduct training in accordance with it.
Abnormality handling training and emergency response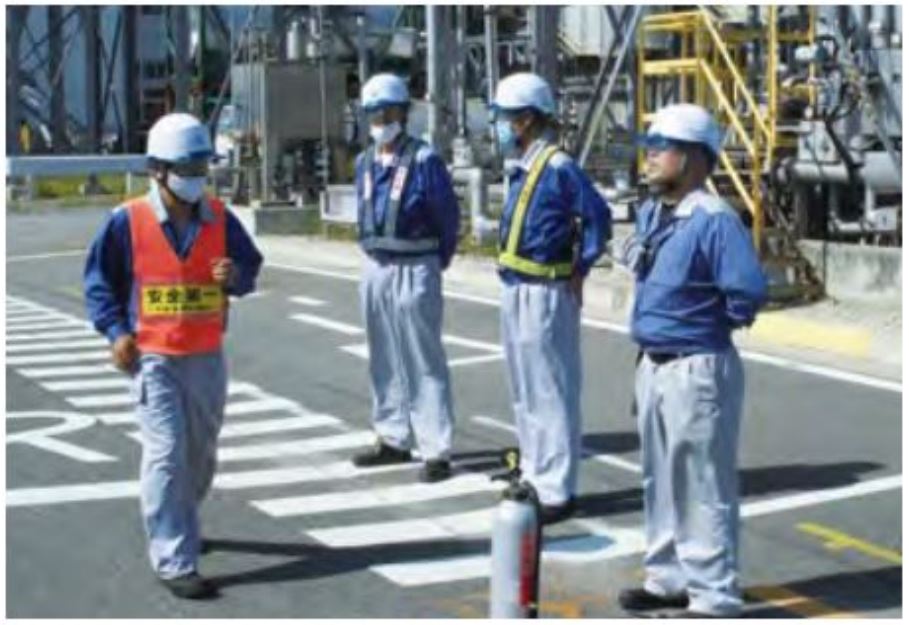 Emergency training (Kinuura factory)
In the education/training curriculum implemented in the offices, education concerning environment and safety/accident prevention practical training are incorporated, and we repetitively conduct abnormality handling and other training in case of an earthquake, fire, and leakage accident in accordance with the annual schedule. We also conduct training in cooperation with the local community that includes joint training with neighboring factories of other manufacturers and the local fire department. On the Company-wide Safety Day (October 2) established for the purpose of preventing the past serious occupational accidents from being forgotten, we held various safety-related events in various areas at home and abroad, including emergency training, disaster drills, emergency liaison training, safety patrols, and talks on safety while taking countermeasures against new coronavirus infection.
Earthquake Countermeasures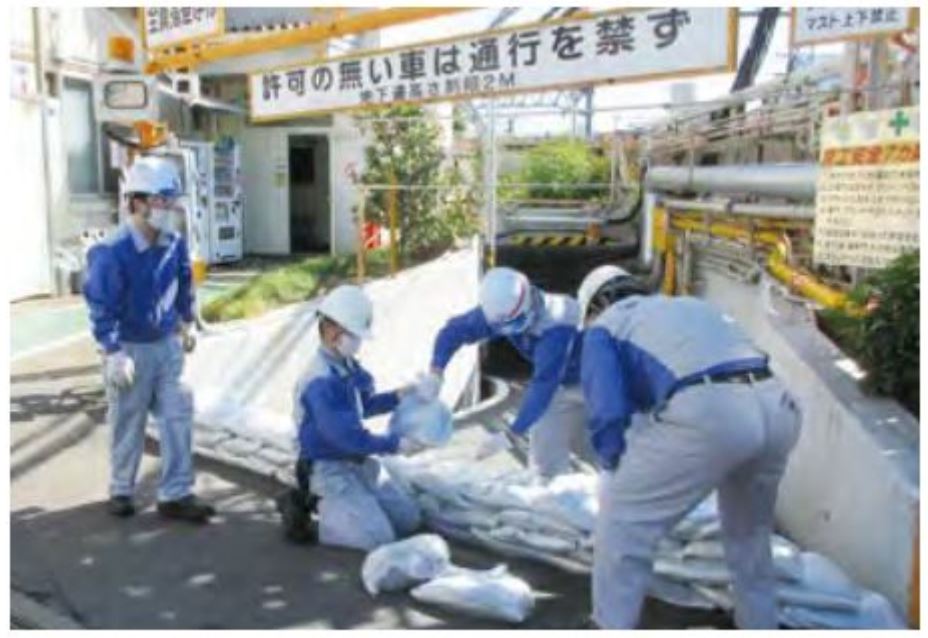 Abnormality handling training on assumption of flooding of the Kamogawa River (Kyoto factory)
Following the Great Hanshin-Awaji Earthquake in 1995, we have been continuously implementing the aseismic reinforcement of buildings and production equipment in domestic offices. We have almost finished the aseismic reinforcement of plants, and we are sequentially carrying out countermeasure constructions of auxiliary equipment. Among the issues that we extracted as points to reflect upon in the Great East Japan Earthquake, we have almost finished implementation of the required hardware countermeasures. We not only conduct training utilizing an earthquake early warning system but also implement BCP training in case of an earthquake and continuously review the response manual and other documents.
Efforts for predictive maintenance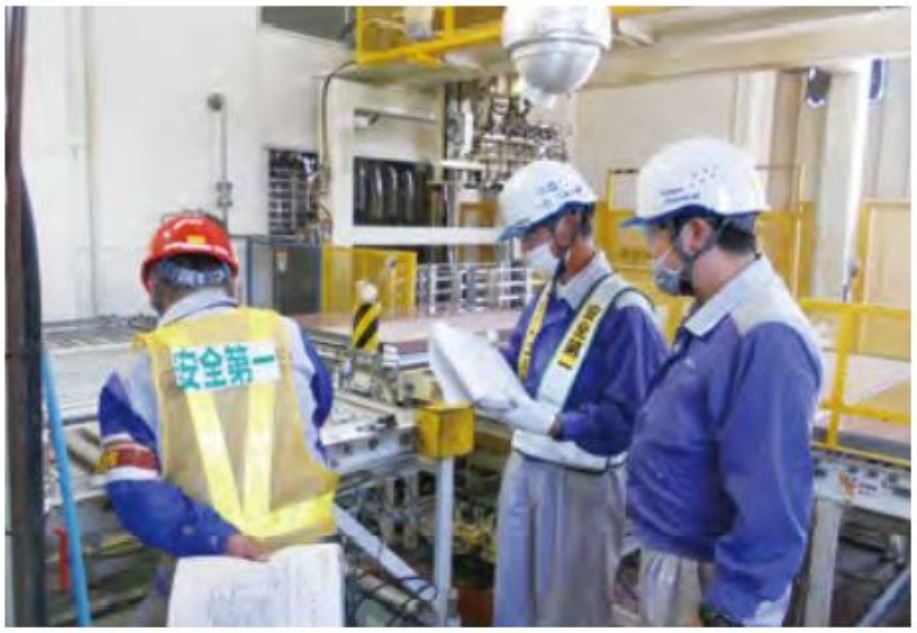 Safety patrol (Nagoya Factory)
In recent years, drastic DX (digital transformation) has been progressing, in which new devices and AI are merged as exemplified by digitalization of maintenance/inspection data, image diagnosis by means of drones, and abnormality judgment by means of vibration/acoustic sensors. Predictive maintenance is a maintenance method, in which device statuses are continuously measured and monitored by using these technologies for the replacement and repair of parts and others at the appropriate times. It has an advantage of suppression of unnecessary part replacements and unexpected problems over periodic maintenance. We have also started predictive maintenance efforts including linking of measurement data of equipment/device distributed control system with commercially available tools.
Internal audit concerning environment, safety, and accident prevention
Targeting at the production and research departments, the Environmental and Safety Administration Deparatment conducts audit concerning environment, safety, and accident prevention by visiting each office once a year. In fiscal 2020, the department conducted audits for the observation status of the Fire Service Act, High Pressure Gas Safety Act, and PRTR Law, safety measures implemented on rotary and driving devices, KY (risk prediction) before work, and the implementation status of safety education to employees and employees from affiliates. As we returned the ISO 14001 certification for domestic factories, the audit of the environment management is also undertaken by the Environmental and Safety Administration Department.