We made a commitment to tackling the biodiversity issue in the CSR guideline established in 2009, participated in the Declaration of Biodiversity by Keidanren Promotion Partners hosted by the Japan Business Federation, and started the Sanyo Chemical Woodland Project in the same year. In 2013, we established the Action Policy Concerning Biodiversity that set the policies of making efforts in the research and development, procurement activity, and production activity by giving consideration to the biodiversity, improving the employees' awareness of the preservation of biodiversity, and tackling the biodiversity issue in cooperation with the local community, and we have been conducting activities in accordance with the policies.
Details of initiatives
By developing and offering environmental performance/chemical product groups that help reduce the environmental load and prevent pollution, we are contributing to the preservation of biodiversity. When synthesizing protein by utilizing genetically modified living organisms, we observe the Cartagena Law and secure biosafety.
To procure sustainable raw materials made from palm oil, we joined the RSPO (Roundtable on Sustainable Palm Oil). We are now discussing measures to acquire RSPO certification for our products.
Impact on biodiversity in product life cycle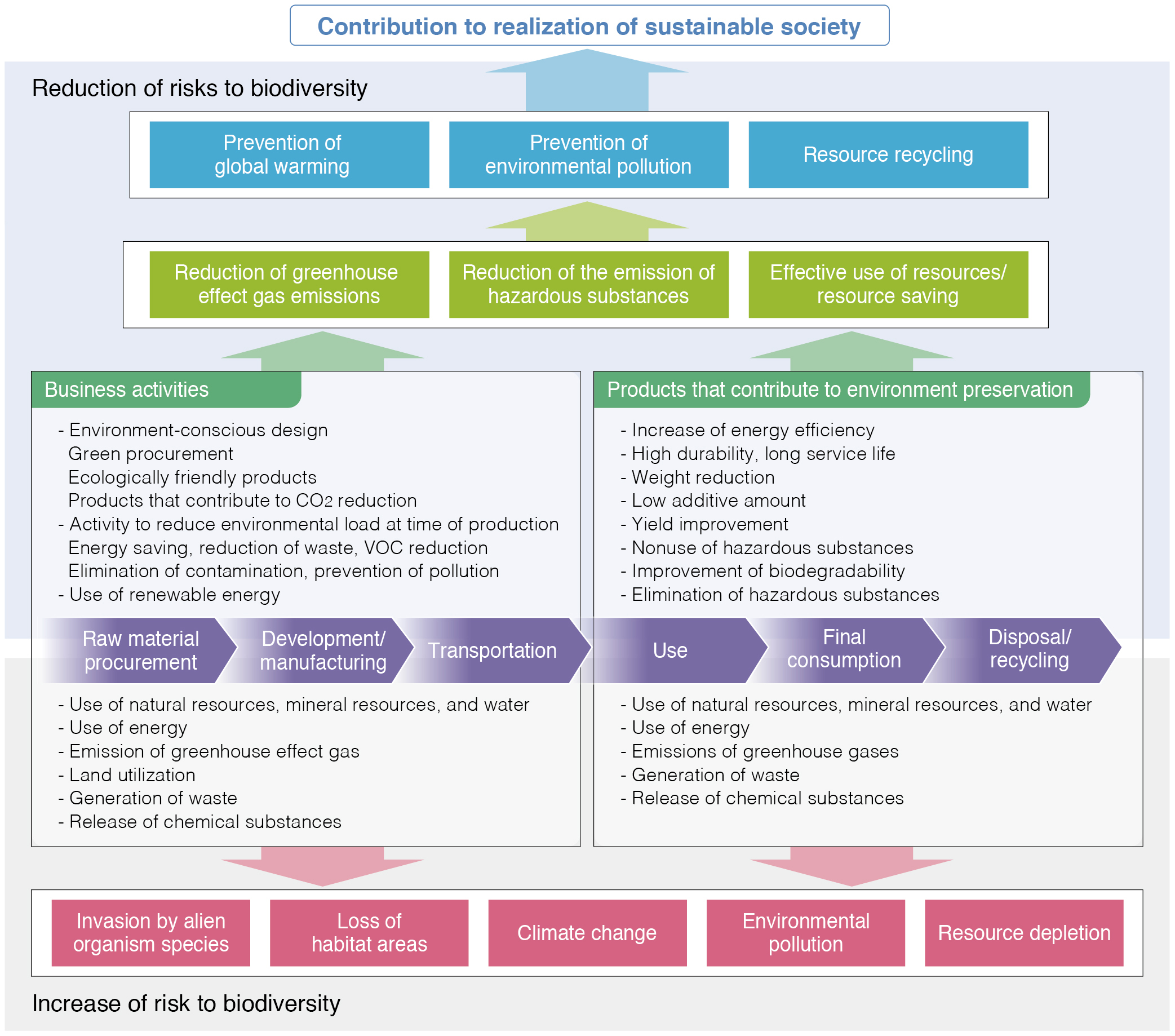 Biodiversity
The term "biodiversity" refers to a state in which various living organisms live while affecting each other in various ways. Although biodiversity serves as the basis of existence of human beings, it is now in a critical situation as the ecological systems have collapsed from the activities of human beings. The Convention on Biological Diversity established for the whole world to tackle this issue classifies biodiversity into three levels: diversity of ecological systems, diversity of species, and diversity of genes.
RSPO (the Round-table Conference on Sustainable Palm Oil)
Palm oil is obtained from the flesh of Elaeis guineensis and is a vegetable oil produced in the greatest amount in the world. Elaeis guineensis originated in Africa, and the regions where it can be cultivated are limited to regions near the equator, including Southeast Asia, Africa, and South America. In such countries as Malaysia and Indonesia where large-scale Elaeis guineensis farms had been developed, serious problems, including environmental collapse due to logging of tropical forests in large area and human rights abuses due to difficult working conditions, have arisen, endangering sustainability. In 2004, the nonprofit organization RSPO was established mainly by the WWF (World Wide Fund for Nature) and other organizations. It aims at promoting the switch to certified palm oil and converting the palm oil industry into a sustainable industry with little environmental load.