With Society
– Social contribution and communications –
As a good corporate citizen, we will give cooperation and support to the local community, NPOs, and NGOs.
We will also continuously support the promotion of science and technology, art, culture, education, welfare, and other topics.
Policy for social contribution activities
As a good corporate citizen, we will contribute to the realization of an enriched society and sustained development.
Our efforts
By joining forces with a wide cross-section of society and effectively using available resources, we will proactively engage in social contribution activities toward the development of human resources who will lead the next generation and provide solutions to social issues.
Response to the needs of countries/regions
By sharing the philosophy of social contribution activities within the group and coordinating with the group bases in countries and regions, we will develop social contribution activities in accordance with the circumstances surrounding the individual countries and regions.
Information disclosure
By disclosing the information on the result of social contribution activities and openly sharing it with society, we will contribute to the realization of an enriched society and sustained development.
With local community
Sanyo Chemical Forest creation activity
In agreement with the purpose of the Kyoto Model Forest Initiative (efforts made by Kyoto Prefecture to protect and nurture the forests in Kyoto together with Kyoto citizens who have been receiving the blessings of the forests), we have been conducting the Sanyo Chemical Woodland project around three times a year in Wazuka Town, Sagara-gun, Kyoto Prefecture since FY2009.
In addition, we provide funding to the forest management fund of the Kyoto Model Forest Association to give support to the forest development project (thinning, etc.) in Wazuka Town. We also participate in the Chagenkyo Festival, an event in Wazuka Town, by setting up our booth.
Living creature observation walk
Planting activities
With local schools
At each district where our office is based, we cooperate in youth development through dispatched chemistry lessons at elementary schools and the provision of the venue for practical lessons for junior high schools.In dispatched lessons at schools, young employees from our laboratory and factories serve as instructors. In fiscal 2020, although we could not give lessons in a manner we wanted because of the influence of the new coronavirus, we held lessons at four schools in the Kyoto District while taking precautions to prevent infection, and for the Yomiuri Summer School@HOME project, we gave online lessons. We also started to give lessons on the SDGs.

Dispatched lesson at elementary school (Kyoto district)
Online interview with junior high school students
Online school
In the online school, Yomiuri Summer School@HOME, sponsored by the Yomiuri Shimbun, we gave online chemistry lessons.
With a theme of "Power of chemistry working around you," our young researchers introduce the functions of chemical products and where they are used through experiments as chemistry teachers.
With university students
We exchanged opinions with students and foreign students from the Kyoto University Graduate School of Global Environmental Studies who are active in the Kyoto Super SDGs Consortium* in which we also participate. With a topic of biodegradable sanitary goods sold in India as a start, we talked about as far as the necessity to supply inexpensive necessities in developing countries and manufacturing in harmony with the environment.
*This is a government-university-industry joint project aiming at social implementation of SDGs, consisting of Kyoto University, Kyoto City, and corporate members including us.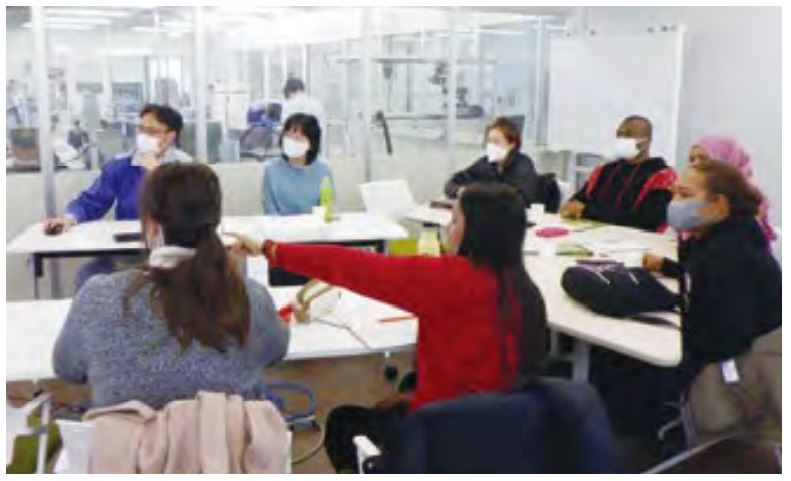 Exchange of opinions with foreign students from Kyoto University
With mass media
Cases of coverage of our high-profile all-polymer batteries and advanced efforts related to LGBTQ issues by the mass media, including TV, newspapers, and magazines, have substantially increased. We appear in FM broadcasting and on TV programs in Kyoto, town magazines, an FM broadcasting program hosted by Kazue-chan, and an internet broadcast program of the Kyoto Super SDGs Consortium, and we co-sponsor them.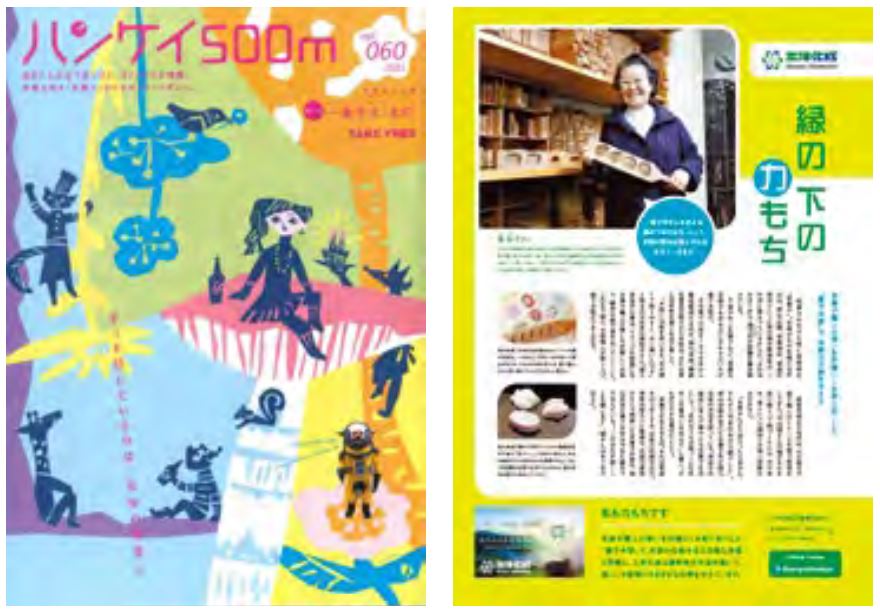 Local town magazine Hankei 500m
In the "Ennoshita no Chikaramochi" (power behind the scenes) section of the magazine, we introduce people who support the tradition, industry, and culture of Kyoto behind the scenes, and we support them.
As social activities
We exchanged opinions concerning active participation by women with the Kyoto prefectural governor, and gave cooperation to the Nikken Womenomics Forum, which supports scientific students. Concerning LGBTQ issues, we have developed activities for promotion of understanding inside and outside the company. In terms of the PRIDE index for assessing the efforts on LGBTQ and other issues, we received the highest award of Gold two years in row. Furthermore, in a lecture concerning management that makes the best use of human resources in "R&D Leaders' Operation Course 2020" hosted by Kinka Chemical Society, we introduced Sanyo Chemical's R&D management and the promotion of diversity.

Nikken Womenomics Forum
Exchange of opinions with Kyoto Prefectural Governor
Kyushu Rainbow Pride (held online)
Donation/support activities
Through the Sanyo Chemical Foundation for Social Contribution, we have given support to medical institutes in Kyoto City where medical staff work hard at the forefront of the prevention of the spread of the new coronavirus infection, and made donations for the support of the resumption of cultural and artistic activities in Kyoto City. For rehabilitation from the torrential rain disaster in July 2020, we gave monetary donations collected from management and employees through the Japanese Red Cross Society. Overseas affiliates made donations and helped with support activities for the respective neighboring schools.

Donation to medical institute in Kyoto City(Sanyo Chemical Foundation for Social Contribution)
Donation of confectionery to neighboring elementary school (SKT)
Support for Paralym Art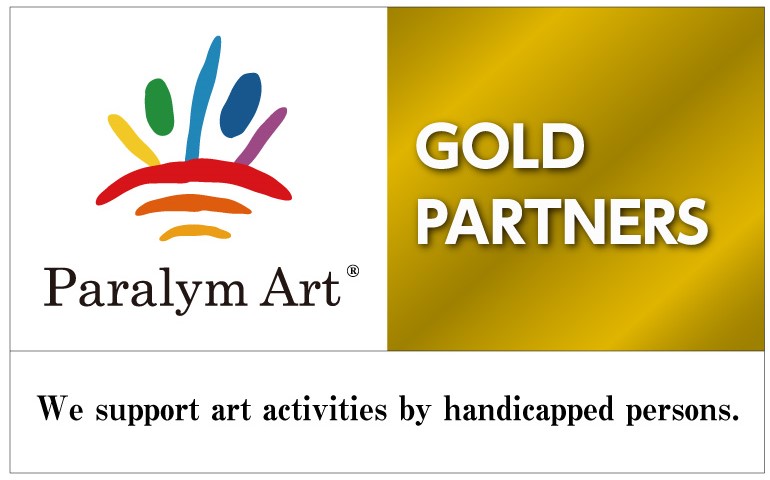 As an official partner for Paralym Art run by the SHOUGAISHA JIRITSU SUISHIN KIKOU ASSOCIATION, we help artists with disabilities be independent.
Paralym Art is an activity to promote social participation by persons with disabilities and their independence through artistic expression. The back cover of CSR Report 2021 bears Paralym Art pieces.