Environmental activity plan S-TEC: Sanyo Tactics for Eco Challenge
We developed the environmental activity plan S-TEC by mainly focusing on energy saving, reduction of the emissions of greenhouse gases, reduction in the release of chemical substances, and measures against waste, and since fiscal year 2000, we have been promoting S-TEC as a company-wide activity. Global S-TEC Level 2, which started in fiscal year 2018, regrettably ended with some goals left unachieved.
In fiscal year 2021, we reviewed the way we set goals: integrated domestic and overseas goals into global goals, abolished intensity-based goals, and employed absolute volume goals. We will start S-TEC 21-24 to achieve new goals.
Global S-TEC Level 2 (period: fiscal year 2018 to fiscal year 2020)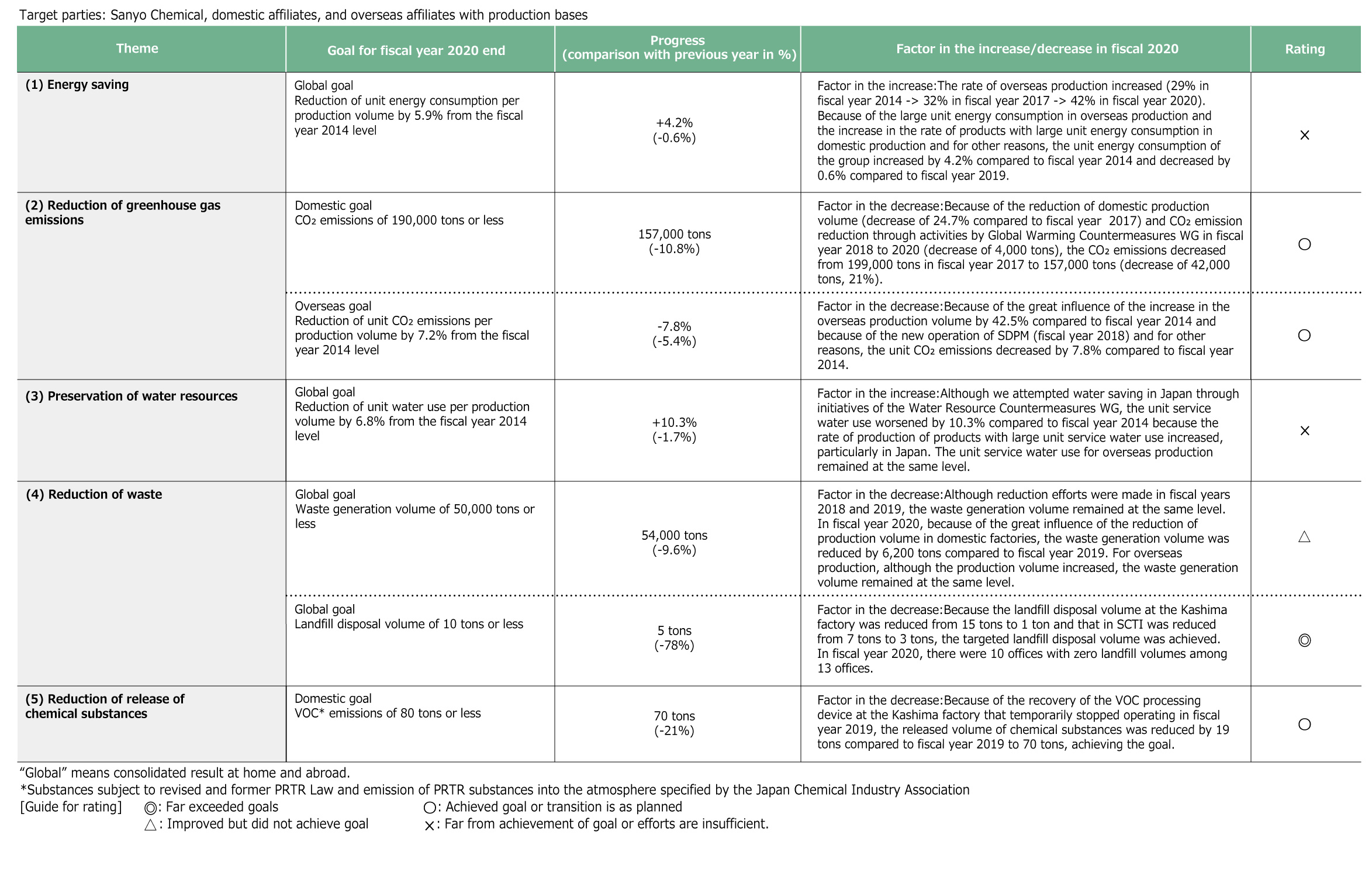 click to see large image
S-TEC 21-24 (period: fiscal years 2021 to 2024)

Climate change
Because of the activities of human beings, the CO2 concentration in the atmosphere has risen, and because of the greenhouse effect of CO2, the global temperature has increased by 0.3ºC to 0.6ºC in the past 100 years. It is also predicted to increase by 1.4ºC to 5.8ºC in the coming 100 years. Temperature rise causes the climate to change, and people are concerned about its great influence on nature and human lives, including an abnormal climate, sea level rise, and an increase in extinct species.
Reduction of CO2 emissions and the braking temperature rises are global issues. In October 2020, the Japanese government declared its intention to become carbon neutral in 2050.* In April 2021, it declared that it would reduce greenhouse gas emissions in 2030 by 46% compared to that in fiscal year 2013.
*Carbon neutral: Refers to the state of net zero CO2 emissions to be achieved through the use of renewable energies and the absorption of CO2 by forests and other means.
Reduction of greenhouse gas emissions: mid- to long-term goal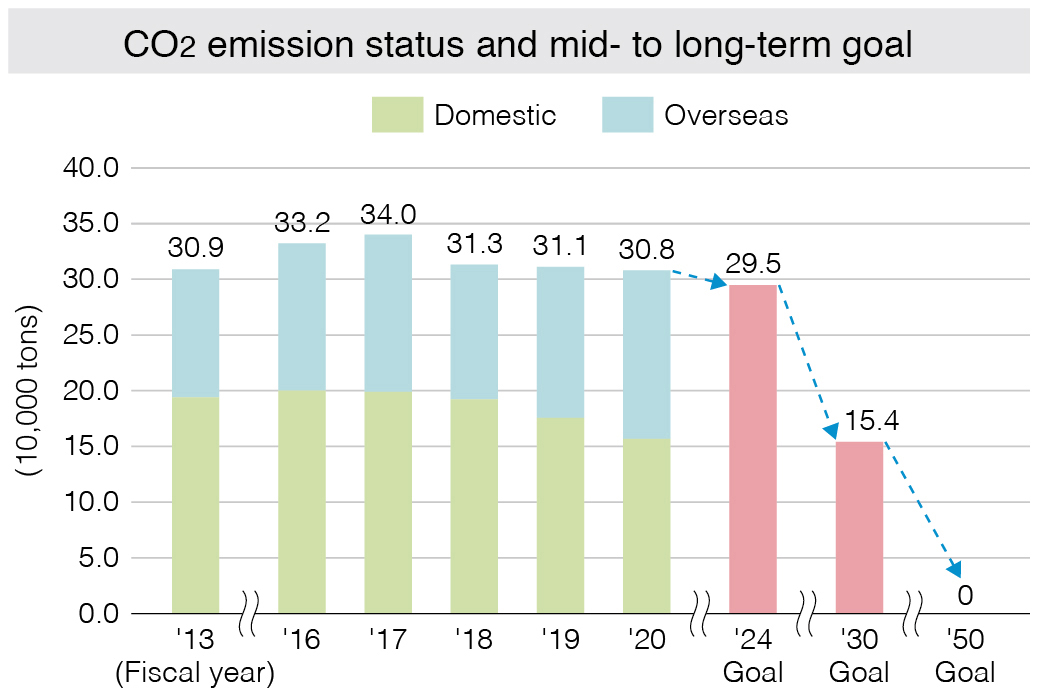 In Global S-TEC Level 2, which we established in 2018, we set a goal of reducing domestic CO2 emissions to 190,000 tons or less, and we achieved it in 2019 and 2020. In S-TEC 21-24, which is in effect in the period from fiscal years 2021 to 2024, as our global goal for domestic and overseas productions combined, we set CO2 emissions of 295,000 tons or less (reduction by 5% compared to fiscal year 2019).
Furthermore, toward the final goal of carbon neutral in fiscal year 2050, we are developing a mid- to long-term plan with an intermediate goal of reducing emissions in fiscal year 2030 by 50% compared to fiscal year 2013. During the S-TEC 21-24 period, we will continue the conventional energy-saving activities and the Energy Saving Promotion Department will start new efforts.
Energy Saving Promotion Department
The Energy Saving Promotion Department was established to vigorously promote energy-saving activities, in particular, in response to climate change, which directly leads to a reduction in CO2, as part of sustainable management. The department undertakes energy saving and access to the latest energies in our general economic activity and addresses the following items:
1. Thorough reduction of CO2 that is directly emitted in the use of fuel in the office and other activities
2. Introduction of in-house carbon price: Establishment of in-house system for including CO2 cost in profitability judgment of R&D, production activity, capital investment, and other activities
3. Exploration of possibility of joint activity to reduce indirect CO2 emissions associated with the purchase and use of electricity and heat by means of a consortium with suppliers and neighboring companies
4. Investigation of competitors, movements of government, etc.
5. Investigation search of CO2 recovery and recycling technologies
Participation in Japan Federation of Economic Organizations initiative Challenge Zero
Challenge Zero is a new initiative led by the Japan Federation of Economic Organizations to forcefully disseminate and support at home and abroad the innovation actions made by corporations and organizations toward the realization of a decarbonized society, which is set as the long-term goal of global framework to avoid climate change as stated in the Paris Agreement.
Participating corporations and organizations sympathetic to the Challenge Zero Declaration by the Japan Federation of Economic Organizations announce their respective specific innovation efforts.
We have been participating in the initiative aiming at making contributions to a decarbonized society through the development of all polymer batteries.

Status of greenhouse gas emissions

The volume of CO2 emissions from domestic offices in fiscal year 2020 is reduced to 157,000 tons (decrease of 19,000 tons compared to the previous fiscal year; decrease of 10.8%) in association with the decrease in the production volume (decrease of 10.3% compared to the previous fiscal year). The CO2 emission amount from overseas affiliates is 151,000 tons (increase of 16,000 tons compared to the previous fiscal year; increase of 12%) due to the increase in the production volume (increase of 18.2% compared to the previous fiscal year).
The unit CO2 emission per production volume has remained at the same level for domestic production and has been on an improving trend for overseas production. In S-TEC 21-24, we set an absolute volume goal, including the volume from the overseas groups, because additional construction in overseas countries have settled, and CO2 reduction on a global scale is required.
[CO2 emission through supply chain (Scope 3)]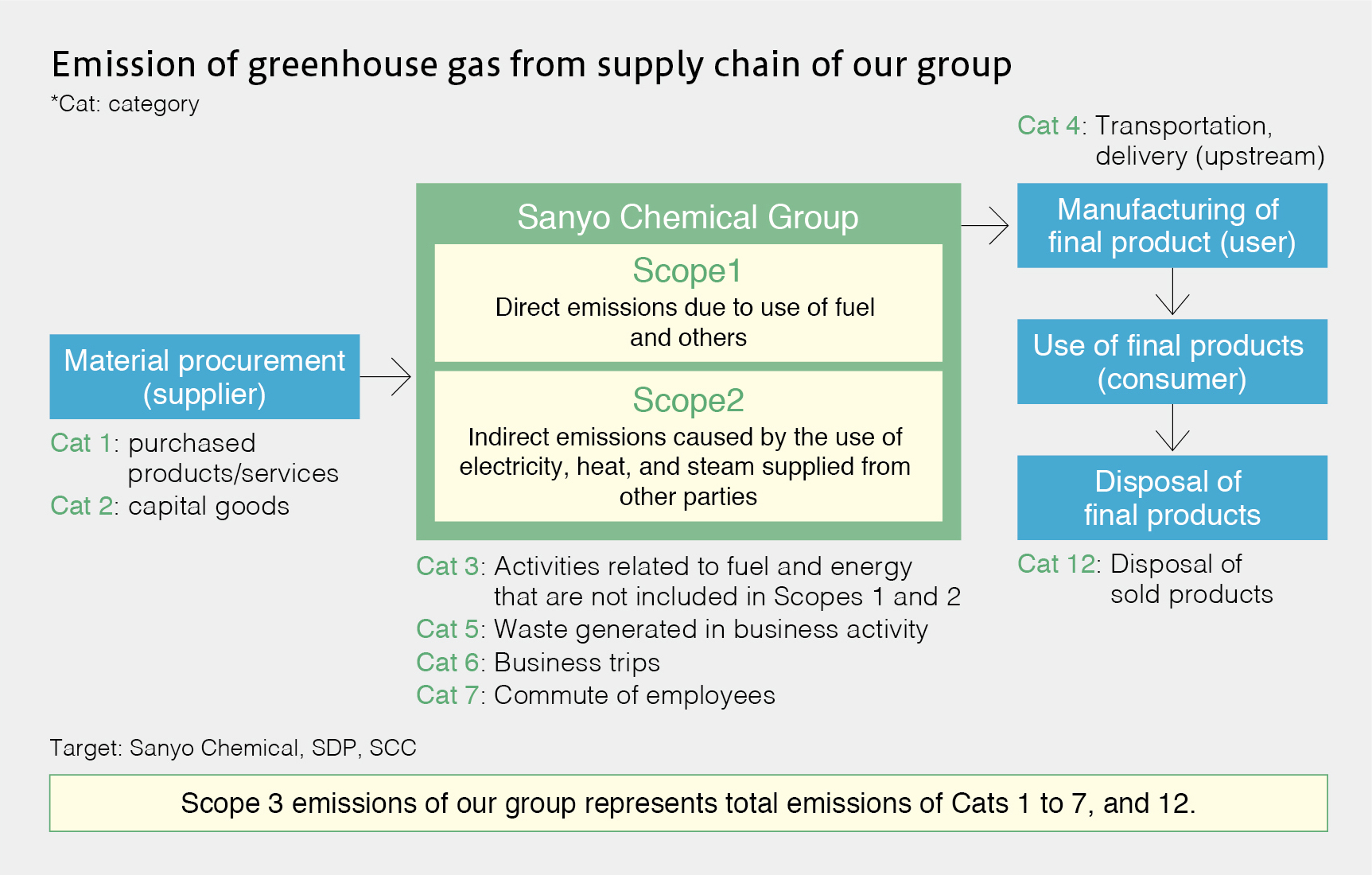 In addition to direct emissions due to use of fuel and others (Scope 1) and indirect emissions due to use of electricity, heat, and steam supplied by third parties (Scope 2), we calculate the emissions through supply chain (Scope 3).
In fiscal year 2020, the Scope 3 emission volume was 2.29 million tons, and CO2 emitted from the purchase of raw materials and CO2 emitted from the disposal of final products that use our products accounted for 52% and 43%, respectively, of the whole Scope 3.
We have not calculated the volume of CO2 emitted from the use, processing, and transportation at the points of sale of our products because it was difficult to collect the data necessary for the calculation.
Energy saving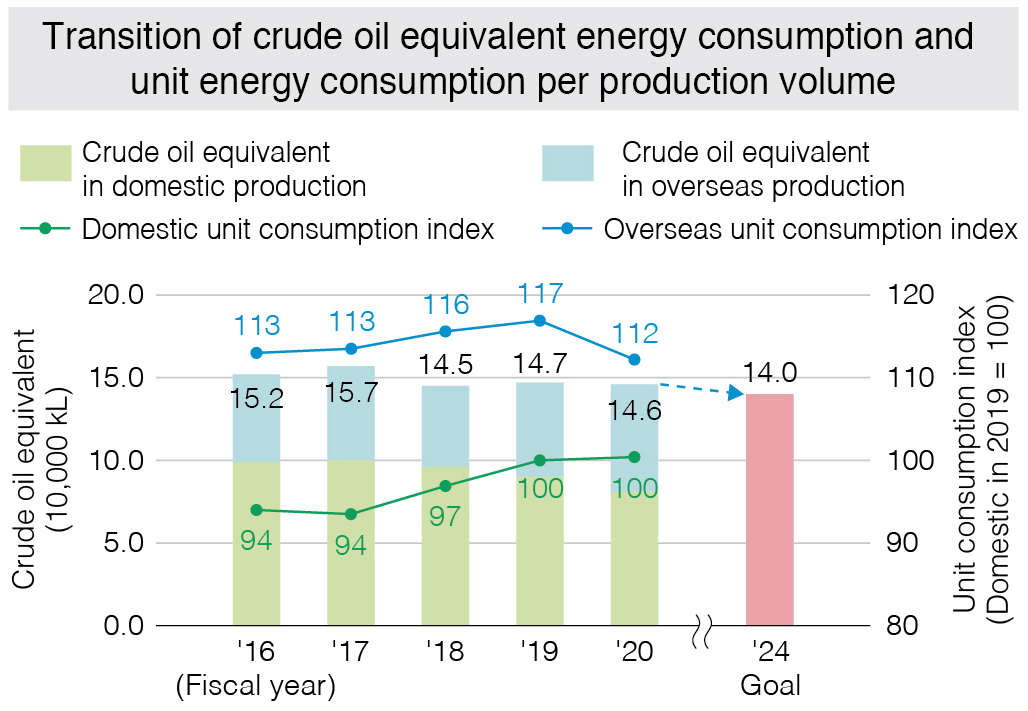 In 2005 when the Kyoto Protocol came into effect, we set the Kyoto Protocol Activity Policy and formed the Global Warming Countermeasures WG with domestic offices, and we have worked on issues for the improvement of energy use efficiency, improvement of production process, and fuel conversion.
Since fiscal year 2017, in association with the decrease of domestic production volume and the increase of production rate of products requiring more energy in their manufacturing, the unit crude consumption per production volume has been worsening. That in overseas production decreased in association with the increase of production volume.
In S-TEC 21-24, the goal setting unit was changed from unit consumption per production volume to crude oil equivalent consumption.
Protection of resources
Protection of water resources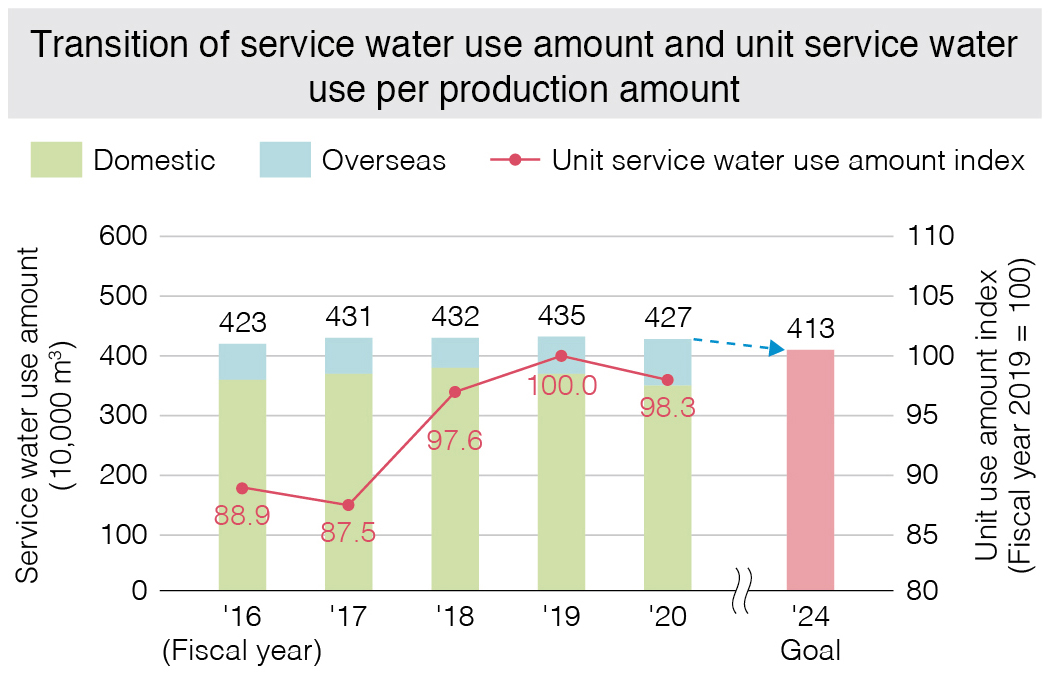 In Global S-TEC Level 2, the goal of unit service water use per production volume was set to a reduction of 6.8% compared to fiscal year 2014. However, as the domestic production volume, which accounts for the majority of service water use, decreased in fiscal year 2020, the unit service water use per production volume decreased by 80,000 m3 compared to the previous fiscal year, and the unit service water use also decreased.
In S-TEC 21-24, the unit of the goal was changed to absolute volume, and we will aim at a reduction of 5% or more compared to fiscal year 2019.
We continue the activities of the Water Resource Countermeasures WG and share the information about reduction items, including repetitive and recycled use of service water in the production process and reuse of steam drains among our group to vitalize the activities in respective bases.
Resource saving and waste reduction

The waste generation amount of 74,000 tons in 2007 decreased as domestic offices accounting for the generation of the majority of waste had been registered to the company-wide challenge system and had made activities. However, the activities have not produced favorable results in recent years, and the waste generation amount has remained at the same level. In S-TEC 21-24, the goal was set to a reduction of 39% or more compared to fiscal year 2019. The waste generation amount in fiscal year 2020 decreased as the domestic production amount that accounts for the majority of waste generation decreased.
The recycling rate with respect to the waste generation amount is around a little less than 40% every year, and the landfill disposal amount is kept below 0.1% of waste generation amount. There were 10 offices with zero landfill volume out of 13 offices.
As the reduction of waste generation amount also leads to a reduction of CO2 emissions at the time of incineration disposal, we will address it as an important issue.
Contamination prevention
Reduction of release of chemical substances

By understanding the amount of chemical substances released or transferred from the offices of our group to the environment, we are making voluntary activities for promoting release reduction while setting priorities.
In Japan, the PRTR Law mandates notification of release/transfer amounts, and the Air Pollution Control Act stipulates the VOC concentration at the discharge port of specified facilities. In Thailand, a system for notification of release/transfer amount similar to Japanese law has been enacted, and in China, a strict emission concentration regulation at outlets to specific facilitates has been enacted.
[Compliance of domestic offices with PRTR Law]
In fiscal year 2020, the release amount of chemical substances subject to the PRTR Law decreased by 3.5 tons (7%) compared to the previous fiscal year to 44 tons as the domestic production volume decreased. As the release of propylene oxide from the Nagoya factory could be decreased by 0.7 tons because of the improvement of the formula and production procedure, we did not introduce a VOC processing device.

[Total VOC amount]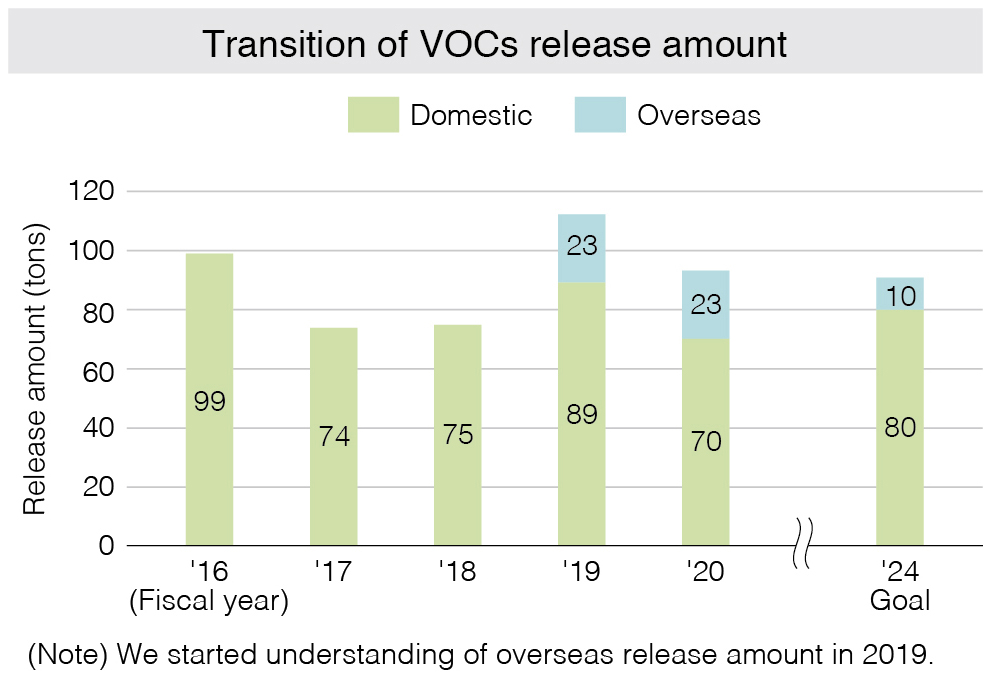 The amount of VOCs (volatile organic compounds) domestically released to the atmosphere in fiscal year 2020 decreased by 19 tons compared to the previous fiscal year. This was due to the recovery of the VOC treatment equipment at the Kashima factory that temporarily stopped operation in fiscal year 2019.
As we could understand the overseas VOC release amount, in S-TEC 21-24, we set a combined domestic and overseas release amount as its goal. In overseas countries, a little more than 20 tons of VOCs are released. We will try to reduce them in the future by introducing release reduction technologies that we have accumulated in Japan and using exhaust gas combustion processing and adsorption processing methods.
Pollution prevention

To prevent atmospheric air pollution and water pollution, we observe the control values imposed by relevant laws and regulations by appropriately conducting equipment maintenance and periodic inspections, and suppress the release of contaminants. To address soil/ground water pollution, we continue voluntary investigations in our premises by using opportunities, such as construction, and no special problem has occurred. In fiscal year 2020, NOx, SOx, and dust greatly decreased in overseas factories, and the COD load amount greatly decreased in domestic offices.
In fiscal year 2020, we did not receive any complaints about pollution, violated any law or regulation related to environment, or have administrative direction or lawsuit.
Management of chemical substances
In accordance with our chemical substance management rule, the handled chemical substances are classified into prohibited substances, restricted substances, and substances to be appropriately managed, and we manage the handling of the chemical substances during production and inclusion in products to assure safety. We have completely abolished the handling of the substances that had been restricted substances according to the hazardous substance reduction program implemented in the past, such as lead compounds and dichloromethane.
There are a wide variety of chemical substance management laws and regulations, which include the Act on the Regulation of Manufacture and Evaluation of Chemical Substances, Industrial Safety and Health Act, PRTR Law, and Poisonous and Deleterious Substances Control Act. In our business activity, the Products Evaluation Department undertakes control in accordance with these laws and regulations in terms of products and the Environmental and Safety Administration Department undertakes the control in terms of production.
[Processing of PCB waste]
The PCB Special Measures Law stipulates that PCB waste must be disposed of within the predetermined period. We conducted re-investigations of the offices so that waste containing PCBs at high concentrations (fluorescent light ballast, waste clothes, etc.) is disposed of within the period without fail, and took procedures for notification, processing commission, and others according to the relevant laws.