Providing Safe and Secure Products
Throughout our business activities, we work to understand our customers' needs for functionality, quality, and environmental protection. Whether through an existing product or one in development, we provide them with the products that best match their requirements, while delivering accurate and up-to-date technical specifications and information on safety.
Organizational Framework and Roles Related to Product Liability (PL) and Chemical Substance Control
In 1995, we established a set of Basic Regulations for Product Liability (PL) and created a specialized department as part of our PL accident prevention system.
Following this, we integrated relevant departments within our company so as to provide faster support to our customers and better comply with increasingly complex chemical substance control laws. A Product Inspections Department was also set up to oversee the management of chemical substances (administration of chemical compositions, domestic/international legislation and self-regulation) and PL compliance (safety tests, SDS document/label creation, customer support, etc.). As part of its work, this department has created a database for each of our products' chemical compositions and, using this, manages chemical substance legislation, while overseeing self-regulatory practices and customer support. Our legal department is in charge of exports in accordance with the Export Trade Control Ordinance.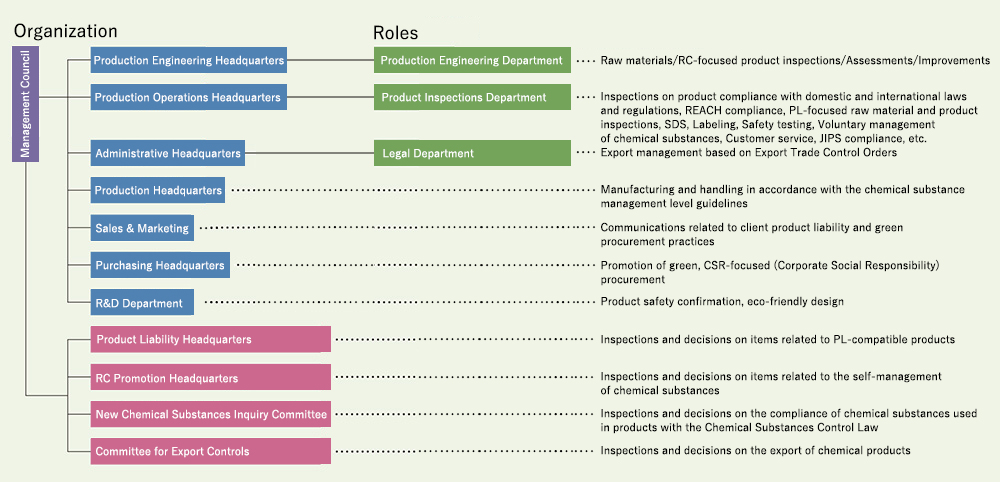 Providing Accurate Safety Information
Whenever necessary, we implement revisions to our SDS files and labels according to changes in chemical substance related laws and regulations, such as the Chemical Substances Control Act, the Industrial Safety and Health Act, the PRTR Act, and the Poisonous Substances Act.
To ensure safety during transport, we issue yellow cards to our transportation crew that include a description of the cargo, emergency contact information and emergency response procedures so that the appropriate measures can be taken in the event of an accident.
Customer Service
We provide Safety Data Sheets (SDS) when distributing our product brochures to ensure our customers are aware of the technical features and safe handling methods for our products.
For newly-released products, we first assess the customer's intended usage and employ a system for initiating sales after we have determined whether or not the product meets the customer's requirements for green procurement.
Export Management
When exporting chemical-based products, various restrictions may exist in addition to the Japanese Export Trade Control Ordinance due to the laws, regulations and international treaties enacted by the importing country. To ensure compliance, we have integrated an Export Stop System into our ordering process. This system rejects products that have not been registered in our export approval master registry when the order is being processed.
The Product Inspections Department reviews each product's chemical composition, which serves as the base of this system, and confirms each country's registration status and the existence of any relevant laws or treaties before creating a database of this information.
For its part, the Export Control Committee examines, deliberates and implements responses for our corporate group to each country's laws and regulations.
Reducing Hazardous Chemical Substances
To meet the needs of society and our customers, we promise to maintain strict compliance with each nation's laws and ordinances as well as the voluntary regulations enacted by various industry groups in order to end the use of heavy metals, chlorinated solvents and conflict minerals. Elimination of these materials from all stages of the production process has been stipulated in our Chemical Substances Management Guideline.
Reliable Quality Assurance
Due to their nature, performance chemicals require multiple-item variable-quantity production, which is difficult to automate. At our company, we have employed our own plant designs to help automate this production process as much as possible. Thanks to these efforts, we currently manufacture around 3000 types of products that are on the market. We also promote the acquisition of ISO 9001 certification at all of our domestic and overseas factories and have built and operate a quality control system that employs the ISO 9001 standards.
Quality Assurance System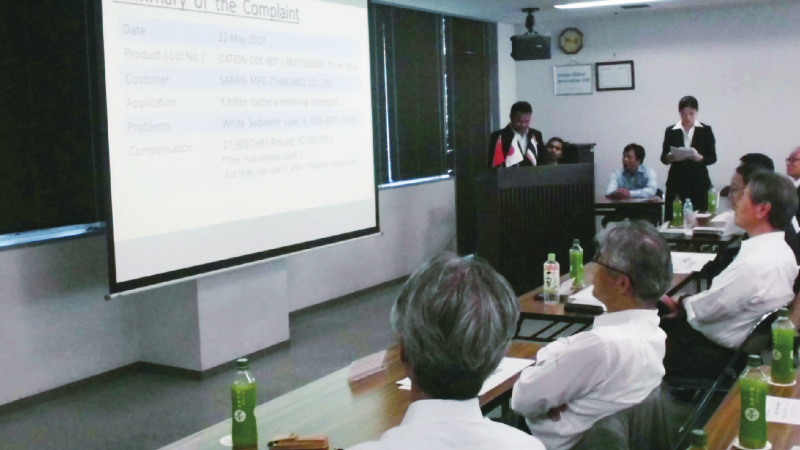 Quality competition
Our plants' quality assurance departments centrally manage information from customers on quality. They also share quality-related information between plants and collaborate on how best to address and remedy customer complaints. When a complaint is received, they immediately investigate the cause using the 5 Whys technique and develop measures to prevent against its recurrence, while promptly responding to the customer's concern.
Our company also holds a Quality Conference each year with our overseas affiliates to share information involving past complaints and examples of improvement to further improve our quality control.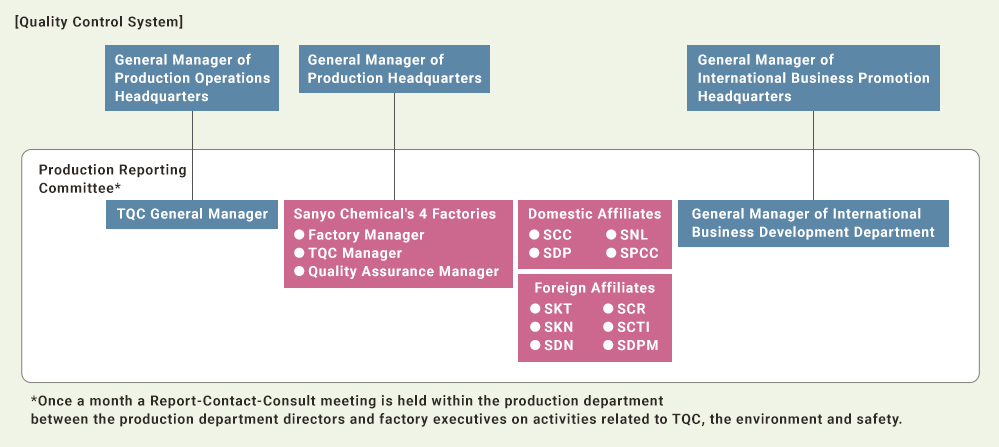 Our Customers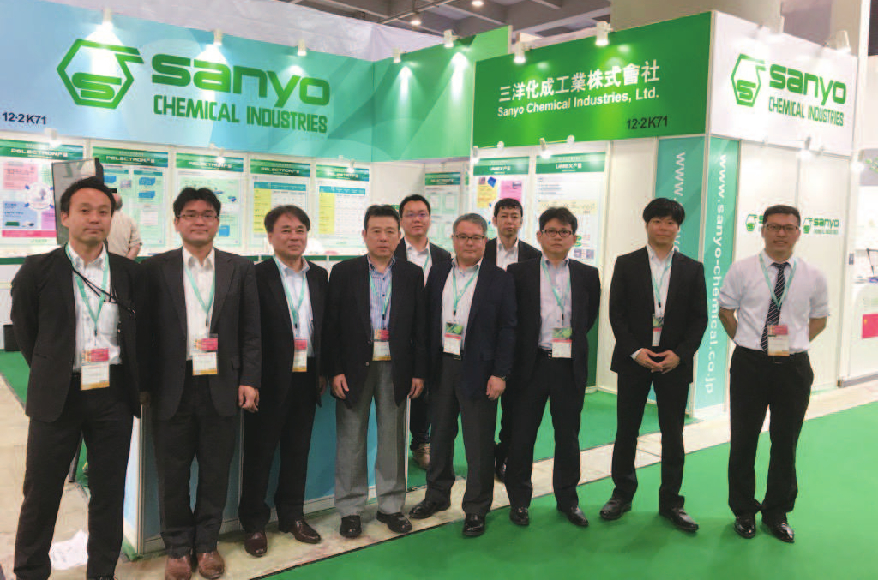 Quality Conference
We actively communicate with our customers so that we can better provide the products that match their needs. We work to provide information on our products and more using a variety of communicative tools at exhibitions and on our website.
Exhibitions
| Date | Location | Exhibition Name |
| --- | --- | --- |
| May 2017 | China, Guangzhou | CHINAPLAS 2017 (The 31st International Exhibition of Plastics and Rubber) |
| May 2017 | United States of America, Atlanta | STLE 72nd Annual Meeting & Exhibition |
| May 2017 | Pacifico Yokohama | 8th Cosmetic Industry Technology Exhibition (CITE Japan 2017) |
| July 2017 | MYDOME Osaka | Exhibition of Materials Supporting Innovation –  in Osaka |
| October 2017 | Czech Republic, Prague | RadTech Europe 2017 |
| October 2017 | Thailand, Bangkok | In-cosmetics Asia 2017 |
| November 2017 | China, Shanghai | CHINA COAT 2017 |
| December 2017 | United States of America, Florida | CAMX 2017(The Composites and Advanced Materials EXPO) |
| February 2018 | India, Gandhinagar | PLASTINDIA 2018 (The 9th International Plastic Exhibition) |
Product Search
Our website features a general catalog (booklet) and search engine that helps you find the product you are looking for using categories such as product function, application and chemical composition.