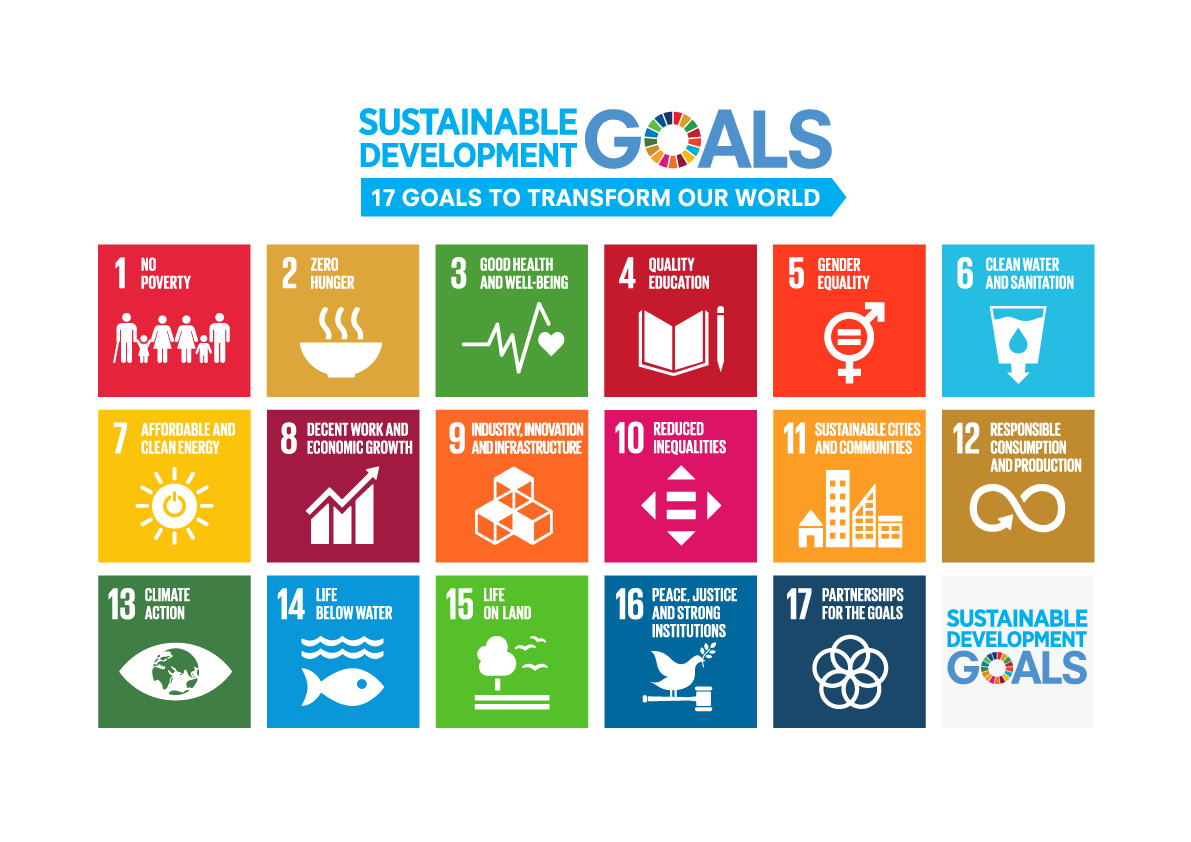 Sustainable Development Goals (SDGs)
We have organized our various CSR activities under the framework of the Sustainable Development Goals which form the heart of the UN's 2030 Agenda for Sustainable Development that was adopted in September 2015.
As part of this, we have appointed managers to evaluate our progress towards achieving the items outlined in our CSR guidelines based on these 17 goals for sustainable development.
Our Stakeholders
At Sanyo Chemical Industries, our business is inextricably linked to all our stakeholders: from shareholders and investors to our employees and regional communities. To honor and further promote our stakeholder relationships and the trust and mutual cooperation they are built upon, we recommit ourselves to open communication and a range of CSR activities. We also make sure to share information with all our employees to create a culture of awareness around the SDGs. Our CSR office is publishing a set of CSR guidelines to help direct our long-term growth as a sustainable, inclusive company.
Glossary
SDGS (Sustainable Development Goals)
At the UN summit of September 2015, the UN adopted 17 goals and 169 targets as part of the 2030 Agenda for Sustainable Development. These ambitious initiatives turned the world's attention towards fighting poverty and hunger, eliminating communicable diseases, promoting peace and justice, and realizing a sustainable and inclusive society. In particular, citizens of the world's most developed nations are called to step up to the plate and grapple with these issues facing all of humanity.
Activities towards our Sustainable Development Goals
CSR Guideline Items
Results for 2017
Targets for 2018
Our Basic Approach


• CSR Committee confirmed the implementation of CSR activities for fiscal year 2017.

• Evaluated progress towards our SDGs targets including a self-evaluation check sheet. Related goals are listed in the Guideline Items column.

• To confirm the implementation and status of CSR activities for fiscal year 2017.

• To continue conducting CSR self-evaluations.

• To implement training programs to raise employee awareness about the SDGs.

Promoting Product Development that Contributes to Society
 

• Ratio of eco-friendly products to total products reached 25.0%.

• With the addition of 6 new items, we calculated the overall CO2 reduction for a total of 103 items. In 2017, this amounted to a CO2 reduction of 378,000 tons.

• To continue to implement and expand the range of eco-friendly products.

Improving Product Liability (PL) and Quality Assurance


• Conducted an examination of company compliance with relevant laws and regulations such as the Chemical Substances Control Law (CSCL).

• Completed REACH (Registration, Evaluation, Authorization and Restriction of Chemicals) registration procedures for exports to the EU in amounts of 1-100 tons.

• Held meetings for exchanging technical information on products produced at our plants. While below our target, we succeeded in reducing the total number of complaints by 42% in comparison to fiscal year 2016.

• To continue implementing various inspections and tests.

• To continue holding meetings to exchange technical information on the various products produced at our many plants.

Strengthening Environmental Protection Efforts



• Domestic CO2 emissions were 199,000 tons.

• Total waste generated was 61,000 tons.

• Continued our Woodland Project forestry activities.

• Began use of certified palm oil derivatives.

• To promote various environmental working group activities.

• To continue implementing current environmental initiatives.

Promoting Risk Management and Strengthening Our Internal Control System


• Initiated an internal control system to address risks due to external procurement and delays in market development for conventional products.
• Carried out revisions to operations flow following the introduction of an SDN personnel system.

• Evaluate and assess company management of important risks.
• Prepare documents ahead of the construction of an SDPM internal control system.

Securing and Fostering Human Resources and Promoting Human Rights


• Held briefing sessions at all business locations on work style reforms.

• Implemented additional measures to promote paternity leave for fathers, reorganize employment courses and offer training for those returning to the workforce.

• Implemented various training programs to promote global human resource development through language training, study abroad programs, open seminars and ranked education systems.

• To establish a labor-management committee and investigate the introduction of various work styles.

• To implement our next set of action plans based on the Act on Promotion of Women's Participation and Advancement in the Workplace.

• To continue our education and training programs.

Promoting Green Procurement


• Conducted a questionnaire and survey on CSR and environmental activities for overseas suppliers.

• Began using information platforms such as EcoVadis and Sedex to promote sustainable practices.

• To conduct questionnaires and surveys targeting domestic suppliers and their CSR and environmental activities.