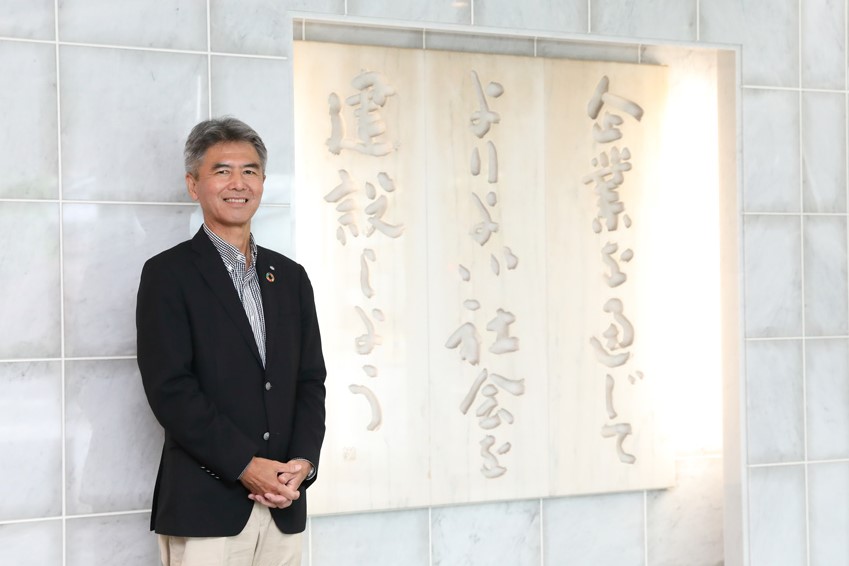 It has been more than 110 years since the Company's predecessor, Tada Soap-Oleo Works, was established in Higashiyama-ku, Kyoto, in 1907. Under our valued Company Motto "Let us contribute to building a better society through our corporate activities," we believe that contributing to the development of a sustainable society is the prerequisite for the company's continued existence and growth and that respecting diverse values in a flexible manner and encouraging employees to have pride and job satisfaction are indispensable for its realization.
We, at the Sanyo Chemical Group, have changed the corporate culture into one where each employee feels pride and satisfaction in their work while staying true to themselves by accelerating the promotion of female participation and career advancement in the workplace and initiatives for LGBTQ and by promoting health and productivity management.
In terms of corporate management, the Company restructured its organization as of April 1, 2021, and strengthened its business division system to accelerate the shift to higher value-added products and implementation of business activities from the customers' point of view.
In order to further increase the corporate value, we will create a Waku Waku company* based on what we have established so far where each employee is motivated to constantly take on new challenges.
*"Waku Waku" is a Japanese word that means positive, bright, up-lifting feeling inspired by inner motivations and/or own wills
On the other hand, against a backdrop of energy, resource and environmental issues, efforts to create a low-carbon and recycling-based society are being enhanced at an accelerating pace on a global scale.
We will increase both social and economic value, continue to accelerate the transformation of the company that we have been tackling, and promote sustainable corporate management from a long-term point of view in order to contribute to the realization of a sustainable society through our business activities based on the Company Motto.
Surface control technology is our strength and has solved issues for a wide range of customers regardless of what field they engage in. In the process of the formation of a low-carbon and recycling-based society, there are many areas where our strengths can be leveraged. By carefully and speedily providing solutions to each of these issues, we will realize a better society through our corporate activities.
The Sanyo Chemical Group will continue endeavoring to realize a better society. Your continued support and cooperation would be highly appreciated.
Akinori Higuchi
Representative Director, President, and CEO