Japanese Medical Devices Classified as 'New Medical Equipment' and 'Specially Controlled Medical Devices (Class IV)' Acquire the EU's CE Marking
Abiotic Hemostatic Agent AQUABRID® (sold as MATSUDAITO in Japan)
Sanyo Chemical Industries, Ltd. (Headquarters: Higashiyama-ku, Kyoto, CEO: Takao Ando) will begin the full-scale overseas launch of Matsudaito (pet name: Hydrofit®), a non-absorptive topical hemostatic material for the central circulatory system produced by Sanyo Chemical and sold by the medical device manufacturer Terumo Corporation. Sold internationally under the brand name AQUABRID®, this product obtained the EU's CE marking*1 on July 29, 2019. Terumo Europe is scheduled to commence sales from October in the European Union. Classified under the 'New Medical Equipment'*2 and 'Specially Controlled Medical Device (Class IV)'*3 categories for medical devices, it is one of only a few Japanese medical devices to have acquired the EU's CE marking*4. Obtaining this certification is a momentous event not only for us as a company, but also in terms of elevating the international presence of Japan's medical devices industry*5 as it looks to transmit Japanese medical innovations across the world.
Hydrofit® is an abiotic hemostatic material used on anastomosis*6 sites when connecting artificial blood vessels in the thoracic aorta and/or branching artery of the aortic arch. In 2011, it was approved for manufacture and sale and, since entering the market, has been widely used in the field of cardiovascular surgery throughout Japan. Following its domestic release, we acquired the AQUABRID® trademark and began preparations for its full-scale overseas launch. Today, AQUABRID® is certified as meeting the strict standards for quality, safety and efficacy laid out in the European Medical Device Directives and has obtained CE marking. It is one of only a few Japanese medical devices classified as 'New Medical Equipment' and 'Specially Controlled Medical Device (Class IV)' to have acquired this marking. The export of medical equipment made in Japan has also been an important target for the Ministry of Economy, Trade and Industry as well as the medical device industry in general. In this regard, our CE mark acquisition has been a significant accomplishment not only for us as a company, but for Japan's entire medical equipment industry.
Acquiring CE marking for AQUABRID® has been an important milestone for the overseas expansion of our biomedical operations. Not only does it allow us to sell to the European market, it also facilitates our pharmaceutical applications in countries outside the EU; particularly in parts of the Middle East and Asia. Taking this opportunity, we promise to continue expanding our biomedical operations overseas, while promoting human health and the growth of the medical industry both at home and abroad.
About Hydrofit®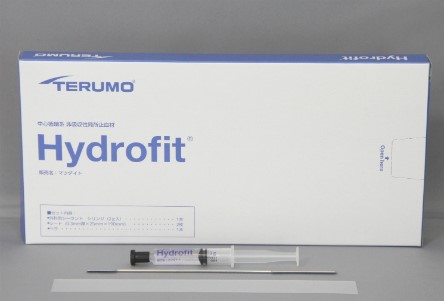 Hydrofit® was first developed in mid-1980 by Takehisa Matsuda — former Dean of the National Cerebral and Cardiovascular Center's Bioengineering Department (subsequently professor emeritus at Kyushu University) — before being commercialized by Sanyo Chemical.
① It consists of an abiotic material made from a urethane prepolymer using Sanyo Chemical's urethane technology;
② Its hemostasis mechanism reacts with the water in the blood, independent of the patient's blood coagulation ability;
③ A curing film made from a single liquid to eliminate mixing, etc. adheres firmly to the hemostatic tissue;
④ The curing film is designed to be elastic, conforming to the movement of the living tissue.
Contributions of Functional Proteins to Medical Care in Aging Societies
Silk-elastin
Silk-elastin is a genetically-modified artificial protein that imitates the natural protein elastin (one of the structural components of dermis that gives skin its elasticity) and silk fibroin (a highly safe medical ingredient with moisture-retaining and bacteriostatic properties that is used for sutures, etc.). It is currently being developed for a wide range of applications.